Volunteer Spotlight: Barry Burris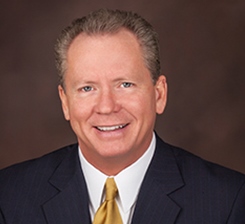 Name: Barry Burris
Title: District Chief
Department: Williamson County Fire/Rescue
Location: Franklin, TN
Why are you an NVFC member?
I'm interested in advancing the welfare of firefighters – and volunteers in particular – at the local, state, and federal level, and the NVFC is the most obvious torch bearer to that end. I have been informed of relevant political topics as well as daily operational tips as a result of being a member. It's a great investment from my perspective.
What is your occupation?
Auto industry executive
Why are you a fire service volunteer?
My daughter was rescued by volunteer firefighters 27 years ago. Prior to that incident, I didn't know our fire department was all volunteer. After her accident, I visited the fire hall to thank the firefighters who came to my daughter's aid, and I asked if I could somehow give back. Here I am 27 years later – still giving back having served in three states on three distinctly different volunteer departments.
What year did you join the fire or emergency services?
1996
What are your memorable moments as a firefighter or EMS provider?
So many…
Responding to a pregnant PT in labor pains en route to hospital when car ran out of gas
Doing welfare checks in rural KY after a crazy ice storm took power lines down for miles
Camaraderie of fighting house fires with my brothers and sisters in the service
Being on a strike team in CA for the bridge fire
Scaling a chain link fence like an Olympic athlete in bunker boots when a Rottweiler was chasing me
What contributions have you (and your department) made in your community?
Whether or not the citizenry realizes it, we save residents millions of dollars annually (thank you for the value calculator!) by serving as an all-volunteer agency. More importantly, we save lives and property with some frequency – that's what keeps us motivated. We are also first responders to searches for lost or missing persons. Our list of value-adds is lengthy.
Interested in serving your community? Find volunteer fire service opportunities at www.MakeMeAFirefighter.org.