Volunteer Department Provides COVID-19 Support Stipends to Members
February 9, 2021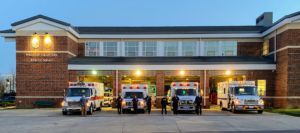 In 2020, the National Volunteer Fire Council (NVFC) temporarily expanded its Volunteer Firefighter Support Fund, which provides $350 stipends to eligible volunteer emergency responders whose homes are impacted by a large-scale disaster or home fire, to include responders who had an involuntary loss of wages due to the COVID-19 pandemic. 18 members of the Wheaton (MD) Volunteer Rescue Squad (WVRS) received stipends, which the department then matched to as a means of providing further aid and retaining existing volunteers.
As the pandemic continues to impact WVRS's recruitment efforts and training programs, the department has again turned its attention to retaining current volunteers. The department board made the decision to award $350 stipends to members who had not previously received a stipend through the NVFC. WVRS used the NVFC's Volunteer Firefighter Support Fund criteria as a basis for their own program. Since the beginning of January when the program was first implemented, three members have applied for and received stipends.
"[WVRS] initiated the program to support retention of our active volunteers," said WVRS president Gam Wijetunge. "The sum is modest when compared to the steep financial challenges many of them are facing, but we believe it sends a message that their department has their backs."
"I am using the stipend directly towards gas to get to and from my paramedic class and clinicals," said EMT Sophie Fickenscher. "Having the stipend eased some of my stress about transportation costs since I lost two jobs during the pandemic."
The NVFC's Volunteer Firefighter Support Fund relies entirely on donations; 100 percent of donated funds goes to help volunteer responders in need. You can donate to the fund or apply for a stipend here. Please note that the NVFC is no longer accepting applications for COVID-19-related assistance.