Register Now for the NVFC Health & Safety Training Summit
January 25, 2022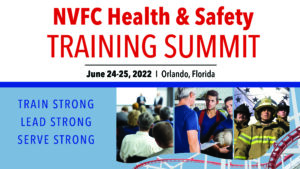 Registration is now open for the National Volunteer Fire Council's (NVFC) 2022 Health & Safety Training Summit. The Summit will take place Friday, June 24, and Saturday, June 25, in Orlando, FL. The conference is open to all volunteer firefighters, EMS providers, department leadership, and other fire department personnel from across the United States. Click here to register now.
This two-day classroom-based training is an opportunity to learn from leading subject matter experts, share ideas and best practices, and network. Attendees will be able to select up to seven breakout sessions to attend, addressing behavioral health, fireground safety, leadership, roadway safety, and more. The conference will also feature keynote speakers and networking opportunities. Full course information and instructor details are available on the registration page. Additional event details will continue to be announced at www.nvfc.org/summit.
The conference will be held at the Embassy Suites by Hilton Lake Buena Vista Resort, an all-suite hotel featuring family-friendly amenities such as a splash park, evening dive-in movies, a putting green, and more. Guests can also enjoy free cooked-to-order breakfast, a nightly reception, free WiFi, and a Disney theme park shuttle. The NVFC has negotiated a room rate of $149 for conference attendees. Find more travel information here.
As in previous years, the NVFC will offer a networking social event after class concludes on Friday, June 24. The reception will include a vendor area featuring sponsors and partners. Sponsorships are available – click here for more information.
The registration fee for the Summit is $129, which provides two days of training from nationally recognized instructors, lunches, light refreshments, and the networking social event. To help more first responders attend, a travel stipend will be available for select attendees. The stipend will reimburse for travel-related expenses, including lodging and transportation. Stipends are available! Visit www.nvfc.org/summit for more information.
Find detailed travel information and register today at www.nvfc.org/summit. Can't make it to the Summit? Access dozens of on-demand online courses at www.nvfc.org/classroom.
Questions? Contact Rachel Buczynski, NVFC conference planner, at 202-887-5700 or Rachel@nvfc.org.