NVFC Health & Safety Training Summit

Quick links: 2022 Event Overview • Hotel and Travel • Travel Stipends • Call for Presentations • Sponsorship • Questions?
---
EVENT OVERVIEW

WHEN: Friday, June 24 – Saturday, June 25, 2022
WHERE: Embassy Suites by Hilton Orlando Lake Buena Vista Resort | Orlando, Florida

PURPOSE: This event will provide an opportunity to participate in valuable classroom training and share ideas and best practices with emergency responders from across the U.S. Attendees will have their choice of breakout sessions to attend, with sessions addressing key topics in first responder health and safety. The event will also feature keynote speakers, general sessions, networking events, and a mini vendor expo.
NETWORKING SOCIAL: The NVFC Health & Safety Training Summit features a poolside evening networking social on Friday, June 24 – a chance to relax and connect with your colleagues. The social includes refreshments and a mini-expo. Families are welcome. Sponsorships are available!
WHO SHOULD ATTEND: The conference is open to all volunteer firefighters, EMS providers, department leadership, and other fire department personnel from across the United States.
AGENDA: Click here to view the agenda-at-a-glance. Full session descriptions and speaker bios are provided in the registration form.
REGISTER: The Summit registration fee of $129 covers two full days of training, lunches, breaks, and a networking event. Register now. (Please note, there is no fee for cancellation before May 25.)
---
HOTEL AND TRAVEL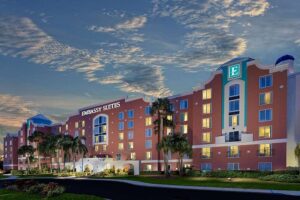 The 2022 Health & Safety Training Summit will be held at the Embassy Suites by Hilton Orlando Lake Buena Vista Resort, 8100 Lake Street, Orlando, FL. The all-suite conference hotel features family-friendly amenities such as a splash park, evening dive-in movies, a putting green, and more. Guests can also enjoy free cooked-to-order breakfast, a nightly reception, free WiFi, and a Disney theme park shuttle.
The NVFC has secured a room block at the conference hotel at the special rate of $149/night. To make your reservation:
Call 407-239-1144 and reference the NVFC Training Summit
Book by June 1, 2022. Please note, overnight parking at the conference hotel is $14/night.
---
TRAVEL STIPENDS
The NVFC is pleased to offer stipends to help offset the travel costs related to the Health & Safety Training Summit. The application period will open soon – stay tuned for more information on this web site and in the NVFC e-newsletter, Dispatch. The first stipend applications will be due on February 15.
---
CALL FOR PRESENTATIONS

The call for presentations is now closed. All applicants have been notified.

The 2022 Health & Safety Training Summit theme is Train Strong, Lead Strong, Serve Strong. The health and safety focused event will be an opportunity for fire and EMS personnel from across the country to participate in valuable classroom training as well as exchange ideas and best practices with their peers. The conference is open to all first responders nationwide. Breakout sessions will be offered in two lengths: 90 minutes and 3 hours.
Examples of relevant presentation topics include, but are not limited to:
Specific physical health issues, such as cancer or heart disease
Behavioral health, including suicide, addiction, and PTSD
Resiliency
Creating a culture of health and safety
Implementing a department health and safety program
New technologies (such as electric vehicle response)
Wildland response
Hazmat safety and response
Emerging issues in the fire and emergency services
On-the-job safety, such as traffic incident management and fireground safety
Personal protective equipment
Functional fitness
Fire service family support
Leadership development
A peer review team will evaluate all presentation proposals. Selections will be made based on quality, relevance, focus, practical application, and the presenter's experience and credentials. Selected presenters will be notified by December 31.
The NVFC will cover travel expenses and provide a stipend for selected presenters. Teaching teams are welcome to apply, but only one instructor per course can receive travel reimbursement/stipend. Please note, while organizations and companies are welcome to apply to share their subject matter expertise, all courses must be educational in nature.
---
SPONSORSHIP
Sponsorship opportunities are available! To learn more, please contact Meg Goldberg, NVFC engagement manager, at meg@nvfc.org or 202-887-5700 x117. Sponsoring the Health & Safety Training Summit provides a unique opportunity to be in front of, and to highlight your brand and what you do to firefighters, EMTs, and rescue personnel from across the United States. It shows your commitment and support to the industry and NVFC.
---
 QUESTIONS?
Contact Rachel Buczynski, conference planner, at Rachel@nvfc.org or 202-887-5700. Read about previous Training Summits: