Preregistration Now Open for the 2022 NVFC Health & Safety Training Summit
November 16, 2021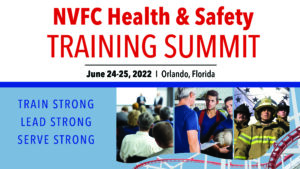 The National Volunteer Fire Council (NVFC) is pleased to announce that the next Health & Safety Training Summit will take place June 24-25, 2022, in Orlando, FL. Pre-register here to get updates as event information becomes available.
Launched in 2014, the Health & Safety Training Summit provides an opportunity for first responders from across the country to participate in valuable classroom training as well as exchange ideas and best practices with their peers. The NVFC's signature annual conference is open to all volunteer firefighters, EMS providers, department leadership, and other fire department personnel. General and breakout sessions will address critical issues in first responder health and safety, recruitment and retention, leadership, and fire prevention. More details, including a stipend program, travel information, and registration, will be available soon. Pre-register to stay informed of new event details.
The NVFC is now accepting proposals from qualified instructors and speakers for presentations to educate first responders about critical issues in the fire and emergency services. Learn more and submit your proposal by December 5, 2021.
Get a glimpse of the Summit by reading about the 2019 event, held in Portland, OR, here. Questions? Contact Rachel Buczynski, conference planner, at Rachel@nvfc.org or 202-887-5700.