MSA and DuPont's Globe Gear Giveaway Provides Volunteer Fire Departments in IL and VT with New Turnouts/Helmets
November 21, 2023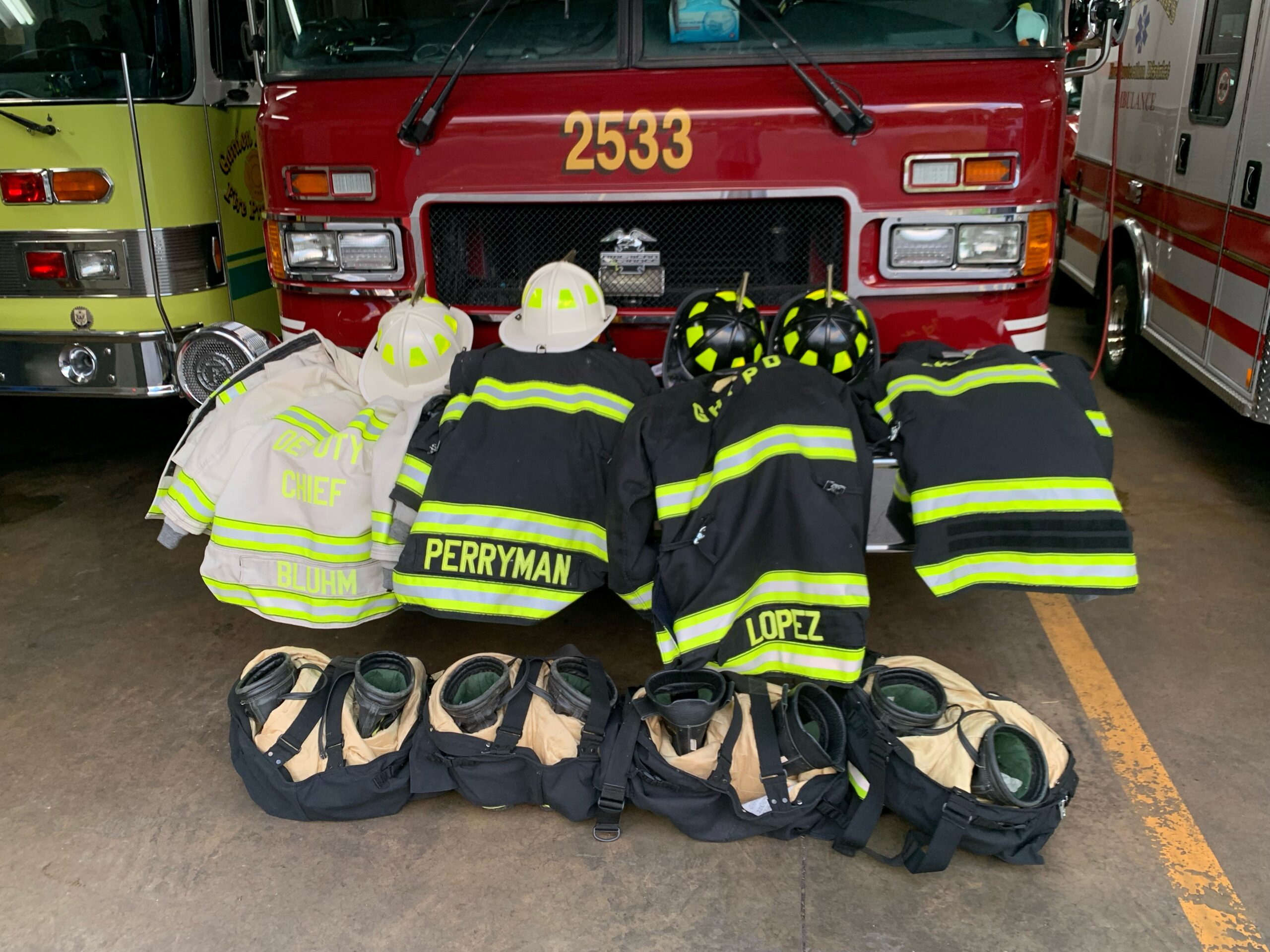 The latest two winners of the 2023 MSA and DuPont's Globe Gear Giveaway, conducted in partnership with the National Volunteer Fire Council (NVFC), have been selected. The Ellis Grove (IL) Volunteer Fire Department and Ripton (VT) Fire & Rescue will each receive four new jackets, pants, and helmets to better protect their responders.
Ellis Grove Volunteer Fire Department
The Ellis Grove Volunteer Fire Department (EGVFD) serves a population of 1,000 people in the Village of Ellis Grove and surrounding area in southwestern Randolph County, IL. The district has one major state route, two major rivers, and one major railroad. The area is home to a federal lock and dam, a state park with camping area, a historic home, and a scenic river overlook area, which brings an influx of visitors during the spring and summer months.
The EGVFD's 18 volunteer members provide a multitude of emergency and non-emergency services including firefighting, fire prevention, fire code enforcement, rescue, water rescue, emergency medical, hazardous materials, and building inspections. However, the department does not have enough turnout gear for all its volunteers – 10 sets are worn or obsolete according to national safety standards, and five members have no gear at all.
"The safety and well-being of our personnel is top priority for the EGVFD," said Assistant Fire Chief Kenneth Roche. "These new sets of bunker gear will be utilized when called to duty by highly trained firefighters as well as facilitate NFPA compliance. This will allow our members to excel with performance duties, reduce response times, and most of all keep our firefighters safe so they can protect our community."
Ripton Fire & Rescue
Ripton, VT, is a small mountain town of approximately 700 residents with additional seasonal visitors to the satellite college campus, ski areas, and fall foliage season. Over 70 percent of Ripton is national forest. Ripton Fire & Rescue provides fire protection and medical first response; year-round wilderness rescue for hikers, skiers, and hunters; and support for community events and fire and life safety education.
Fundraising efforts have allowed the department to replace an antiquated vehicle and establish an SCBA upgrade and replacement schedule. However, it has proven difficult to provide all 27 volunteer firefighters with adequate personal protective equipment. Ten members do not have assigned turnout gear and another nine are using gear that is more than 10 years old.
"Being from a small town shouldn't mean that our firefighters should be any less protected," said Chief Chris Pike. "The donation of gear would provide our volunteer firefighters the protection they need."
About the Giveaway
Each year, MSA Safety, DuPont Personal Protection, and the NVFC partner to provide state-of-the-art turnout gear to all-volunteer or mostly-volunteer fire departments in need. In 2023, a total of 13 departments in the U.S. and Canada will each receive four sets of gear and four helmets. MSA also provided complimentary NVFC memberships to the first 500 applicants.
The final three awards for 2023 will be made in December. The next application period will open in February 2024.
Need help with your application? Take the NVFC's online grant-writing course for free until December 7. You can also join the NVFC for a Roundtable Talk on December 13 where a panel of experts will discuss grant-writing tips, resources, and more. Both opportunities are made possible thanks to the support of MSA.
Stay tuned to the NVFC web site, Dispatch enewsletter, and Facebook and Twitter pages, as well as the Globe Facebook page, for additional information and announcements.
About Globe Manufacturing Company and MSA Safety
Globe Manufacturing Company, a leader in fire service protective clothing, is a subsidiary of MSA Safety Incorporated. Established in 1914, MSA Safety Incorporated is the global leader in the development, manufacture and supply of safety products and solutions that protect people and facility infrastructures. Many MSA products integrate a combination of electronics, software, mechanical systems and advanced materials to protect users against hazardous or life-threatening situations. The company's comprehensive product line is used by workers around the world in a broad range of markets, including fire service, the oil, gas and petrochemical industry, construction, industrial manufacturing applications, heating, ventilation, air conditioning and refrigeration, utilities, mining and the military. MSA's core products include self-contained breathing apparatus, fixed gas and flame detection systems, portable gas detection instruments, industrial head protection products, firefighter helmets and protective apparel, and fall protection devices. With 2022 revenues of $1.5 billion, MSA employs approximately 5,000 people worldwide. The company is headquartered north of Pittsburgh in Cranberry Township, Pa., and has manufacturing operations in the United States, Europe, Asia and Latin America. With more than 40 international locations, MSA realizes approximately half of its revenue from outside North America. For more information visit MSA's web site at www.MSAsafety.com.
About DuPont Personal Protection
From first responders to industrial workers, DuPont provides a wide range of personal protection solutions, including some of the most trusted and innovative brands in the industry, such as Kevlar®, Nomex®, Tyvek® and Tychem® to meet your safety needs. More information can be found at personalprotection.dupont.com.
About DuPont
DuPont (NYSE: DD) is a global innovation leader with technology-based materials and solutions that help transform industries and everyday life. Our employees apply diverse science and expertise to help customers advance their best ideas and deliver essential innovations in key markets including electronics, transportation, construction, water, healthcare and worker safety. More information about the company, its businesses and solutions can be found at www.dupont.com. Investors can access information included on the Investor Relations section of the website at investors.dupont.com.
DuPont™, the DuPont Oval Logo, and all products, unless otherwise noted, denoted with ™, ℠ or ® are trademarks, service marks or registered trademarks of affiliates of DuPont de Nemours, Inc.
About the NVFC
The National Volunteer Fire Council (NVFC) is the leading nonprofit membership association representing the interests of the volunteer fire, EMS, and rescue services. The NVFC serves as the voice of the volunteer in the national arena and provides critical resources, programs, education, and advocacy for first responders across the nation. Learn more at www.nvfc.org.