Get Ready for Fire Prevention Week, October 8-14
October 3, 2023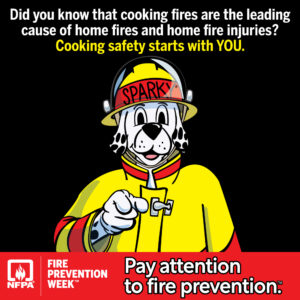 Next week is Fire Prevention Week (FPW), a time to educate the community about their role in keeping their homes and communities safe and preventing tragedies. This year's theme is Cooking safety starts with YOU! Pay attention to fire prevention.™ The resources below will help you plan your week and keep these important messages at the forefront all year long.
Roundtable Talk: Fire Prevention Week – Cooking Up a Plan for Your Department: Join the National Volunteer Fire Council (NVFC) and a panel of subject matter experts on October 4 at 2pm ET for this discussion on the importance of this year's theme, how your department can participate in FPW, and tips and ideas you can use for public education throughout the year. If you miss the live event, you can watch the recording here.
Fire Prevention Week web site: Find tools and resources specifically for Fire Prevention Week from the National Fire Protection Association (NFPA).
U.S. Fire Administration: Find tools and resources to help with fire prevention and life safety education in your community.
Fire Corps: Non-operational volunteers can be a critical part of a fire department's public education and outreach program. The NVFC provides resources for starting and implementing a Fire Corps program as well as for utilizing non-operational volunteers to conduct fire and life safety programs, smoke alarm installations, home safety checks, and more.
Make Me A Firefighter: Utilize FPW open houses and events to let your community know they can volunteer with your fire department. The NVFC's Make Me A Firefighter campaign's department portal has free resources including ready-to-use PSAs, a materials generator where you can create customized recruitment materials to distribute to community members, and an online database where you can promote your department's volunteer opportunities.
Online Courses: The NVFC offers courses and webinars in its Virtual Classroom to help departments develop and enhance fire prevention and safety initiatives.
Fire and Life Safety Communicators Initiative: The U.S. Fire Administration spearheads this collaboration among the fire and emergency medical services to speak with "one voice" on fire and life safety. This includes an annual monthly messaging calendar with links to information and resources.