Fire Prevention Week 2022: Fire Won't Wait – Plan Your Escape
October 4, 2022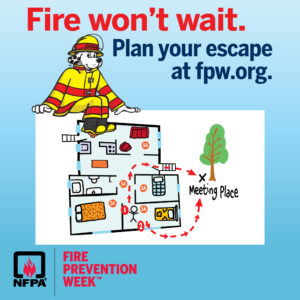 The 100th anniversary of Fire Prevention Week takes place October 9-15. This year's theme is "Fire Won't Wait. Plan Your Escape" and focuses on simple but important actions everyone can take to keep themselves and those around them safe from home fires. Utilize the following resources to help enhance your fire prevention and safety initiatives during Fire Prevention Week and throughout the year.
Fire Prevention Week web site: Find tools and resources specifically for Fire Prevention Week from the National Fire Protection Association (NFPA).
U.S. Fire Administration (USFA): Find tools and resources to help with fire prevention and life safety education in your community.
Fire Corps: Non-operational volunteers can be a critical part of a fire department's public education and outreach program. The National Volunteer Fire Council (NVFC) provides resources for starting and implementing a Fire Corps program as well as for utilizing non-operational volunteers to conduct fire and life safety programs, smoke alarm installations, home safety checks, and more.
Make Me A Firefighter: Utilize Fire Prevention Week open houses and events to also let your community know your fire department needs more volunteers. The NVFC's Make Me A Firefighter campaign's department portal has free resources including ready-to-use PSAs and a materials generator where you can create customized recruitment materials to distribute to community members.
Getting Your Department and Community Ready for Fire Prevention Week: This live panel discussion hosted by the NVFC and featuring Michael McLeieer of the Michigan State Firemen's Association, Andrea Vastis of the NFPA, and Bruce Bouch of the USFA reviews this year's Fire Prevention Week theme, ideas for participating in the week, and tips for enhancing a department's fire prevention efforts. (Please note: The first few minutes of the discussion got cut off due to a technical difficulty.)
Free Courses: The NVFC has partnered with First Alert to make three on-demand fire prevention and safety focused courses free for the month of October. These trainings in the NVFC Virtual Classroom will assist fire service volunteers in increasing community safety through alarm installation and fire safety education.