Final Three Recipients of MSA and DuPont's 2022 Globe Gear Giveaway Announced
December 6, 2022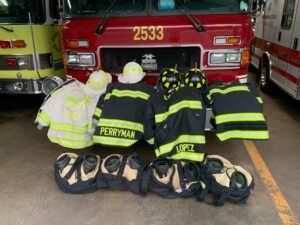 Volunteer fire departments in Pennsylvania, Illinois, and South Dakota have been selected as the final three recipients in this year's MSA and DuPont's Globe Gear Giveaway. The giveaway, in partnership with the National Volunteer Fire Council (NVFC), provides state-of-the-art turnout gear and helmets to fire departments in need. The first 500 applicants also received a one-year NVFC membership, courtesy of MSA.
The Hose Company No. 1 (Honesdale, PA), Hurst (IL) Fire Department, and New Elm Spring Fire Department (Ethan, SD) will each receive four new sets of turnout gear and four helmets. These donations wrap up the 2022 giveaway, in which a total of 52 sets of turnout gear and 52 helmets were awarded to 12 fire departments in the United States and one department in Canada. This annual program has been providing new gear to enhance the safety and protection of volunteer responders since 2012. Learn about the latest recipients below.
Hose Company No. 1
Hose Company No. 1, part of the Honesdale Fire Department, is a volunteer-run fire company in rural northeast Pennsylvania. It is responsible for a 45-square-mile radius, including an urbanized center with a courthouse, hospital, retirement/assisted living facilities, two malls, and more. The department responds to not only structural fires, but also to natural disasters, helicopter landing zones, water emergencies, automobile accidents, natural cover fires, locating lost persons, traffic control, and assisting police and ambulance personnel.
Despite the department's long list of responsibilities, many members are either using gear that is over 10 years old, or simply do not have any. A limited tax base and lack of donations restrain the ability to purchase new gear. This conflicts with the fire company's mission to provide fire, rescue, and emergency services with the utmost safety while ensuring the well-being and preparedness of all members.
Deputy Chief Brian Dulay says the department will take good care of the awarded gear. "This equipment will be used for many years to come with dependable reliability and nominal costs to operate," he remarked. "We are diligent to clean and maintain our equipment annually, per suggested guidelines."
Hurst Fire Department
Hurst Fire Department is an all-volunteer fire and EMS provider in rural Williamson County, Illinois. The county is home to a railway and state highway, both of which pose safety hazards to its 1,100 residents. In addition to protecting its own population, the department provides mutual aid coverage for the county's fire protection district and six neighboring departments.
Over half of the department's volunteers use gear that is nearly 20 years old and non-compliant with NFPA standards. The department's strict budget makes it difficult to execute large purchases, such as those for new gear.
Fire Chief Thomas Gottschalk says the new gear awarded from the giveaway will "allow our department's PPE to become that much closer to being fully NFPA compliant. Compliance is key to every department throughout our country, but tight budgets make that very difficult."
New Elm Spring Fire Department
Located in the rural town of Ethan, South Dakota, New Elm Spring Fire Department is run entirely by volunteers. It is responsible for 250 square miles, which includes five communities. Within those communities are large industrial farms storing chemicals and pasture ranges that pose a serious wildfire risk. The closest mutual aid is miles away.
Of the 17 active members, 10 are using turnout gear that is over 15 years old, and seven do not have any. This interferes with training, and thus affects the quality of protection residents receive. The prospect of obtaining new gear has long seemed unlikely, as the lack of funding makes even covering maintenance costs difficult.
According to department secretary Rick Tschetter, this donation of new gear means increased safety for local residents. "Some of our members don't have adequate gear to complete some levels of training," he explained. "[With] this donation, more members [will] be able to complete the training, and [we] can then keep our community members safer."
Stay tuned to the NVFC web site, Dispatch newsletter, and Facebook and Twitter pages, as well as the Globe Facebook page, for a full wrap-up of the 2022 gear donation program as well as information on the 2023 application period.
About MSA
Established in 1914, MSA Safety Incorporated is the global leader in the development, manufacture and supply of safety products that protect people and facility infrastructures. Many MSA products integrate a combination of electronics, mechanical systems and advanced materials to protect users against hazardous or life-threatening situations. The company's comprehensive product line is used by workers around the world in a broad range of markets, including the oil, gas and petrochemical industry, the fire service, the construction industry, mining and the military. MSA's core products include self-contained breathing apparatus, fixed gas and flame detection systems, portable gas detection instruments, industrial head protection products, firefighter helmets and protective apparel, and fall protection devices. With 2021 revenues of $1.4 billion, MSA employs approximately 4,800 people worldwide. The company is headquartered north of Pittsburgh in Cranberry Township, Pa., and has manufacturing operations in the United States, Europe, Asia and Latin America. With more than 40 international locations, MSA realizes approximately half of its revenue from outside North America. For more information visit MSA's web site at www.MSAsafety.com.
About DuPont Personal Protection
From first responders to industrial workers, DuPont provides a wide range of personal protection solutions, including some of the most trusted and innovative brands in the industry, such as Kevlar®, Nomex®, Tyvek® and Tychem® to meet your safety needs. More information can be found at personalprotection.dupont.com.
About DuPont
DuPont (NYSE: DD) is a global innovation leader with technology-based materials and solutions that help transform industries and everyday life. Our employees apply diverse science and expertise to help customers advance their best ideas and deliver essential innovations in key markets including electronics, transportation, construction, water, healthcare and worker safety. More information about the company, its businesses and solutions can be found at www.dupont.com. Investors can access information included on the Investor Relations section of the website at investors.dupont.com.
DuPont™, the DuPont Oval Logo, and all products, unless otherwise noted, denoted with ™, ℠ or ® are trademarks, service marks or registered trademarks of affiliates of DuPont de Nemours, Inc.
About the NVFC
The National Volunteer Fire Council (NVFC) is the leading nonprofit membership association representing the interests of the volunteer fire, EMS, and rescue services. The NVFC serves as the voice of the volunteer in the national arena and provides critical resources, programs, education, and advocacy for first responders across the nation. Learn more at www.nvfc.org.