Volunteer Spotlight: Z. Lori Primeaux Coleman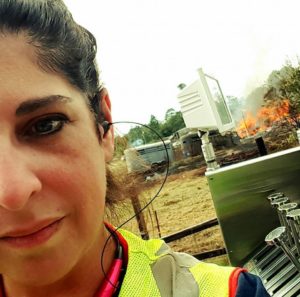 Name: Z. Lori Primeaux Coleman
Title: Chief's Secretary and Volunteer Firefighter
Department Name: Carlyss Fire Department
Location: Sulphur, LA
Why are you an NVFC member?
I am an NVFC member because of the huge support, amazing training, and continuing education. There's so much information we receive by being members. If our department were not members, we would not have been aware of the "Make Me A Firefighter" resource. It is so hard to get new members to come work as career and volunteering; this resource helps us. Also, we would not know about the giveaways, which is a plus for so many departments. And the action center, to be able to tell Congress what we need and what we want quickly and swiftly, is a huge help.
What is your occupation?
Career fire chief's secretary
Why are you a fire service volunteer?
I am a career fire chief's secretary for the past 15 years, and the civil service secretary. I have also been a volunteer firefighter/driver/operator with another fire department for over 13 years, until I stepped down as an honorary member this past summer [when] we moved out of the district.
I started in the volunteer area of the fire service after I met my husband and married him 2001. I watched how much he loved it, and I love helping others, so in 2002, I joined. We have been fighting fires and saving lives together ever since.
What year did you join the fire or emergency services?
2002
What are your memorable moments as a firefighter or EMS provider?
I love working with everyone and helping others. My most memorable moment was when Al Roker asked for people to send in a video of "why do we want him to 'Wake Up with Al' at your home." I sent one in, asking him to come to my second home, the fire station. They responded and did. It was an amazing event to have The Today Show, The Weather Channel, and our local and other news media at our front door honoring our firefighters and EMS.
What contributions have you (and your department) made in your community?
I started the boot drive back in 2002, with great success each year. I handed it over to our union, and the firefighters are doing amazing work with collecting funds for MDA. I started collecting canned goods and school supplies for any local or neighboring town disasters, with great success each time it's needed. I started the "Santa Helper" with our department; each year we donate the toys to the local Marines or the local hospital. We send it where there is a need.
Interested in serving your community? Find volunteer fire service opportunities at www.makemeafirefighter.org.