Volunteer Spotlight: Thomas Forster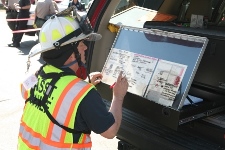 Name:  Thomas Forster
Title:  Fire Chief
Department Name:  Plumas Eureka FD
Location:  Blairsden, CA
What is your career?
I've been employed by Lucasfilm Ltd., now Skywalker Properties Ltd., in Northern California for 31 years. I was the long-time Ranch Manager/Director of Operations and Facilities/Fire Chief at Skywalker Ranch, and now work part-time in agency and community relations. I've also done some teaching, and consulting in strategic planning and team building.
How long have you been an NVFC member?
Several years
Why are you an NVFC member?  
NVFC provides great value for volunteer and combination FDs. Along with IAFC's VCOS, NVFC is at the heart of providing leadership, resources, and encouragement to the volunteer fire service. Today it is more challenging than ever to successfully operate in the volunteer world, especially as our role has become more complex and costly.
Why are you a volunteer firefighter?
I am a fourth generation California firefighter, of now five generations in my family, totaling over 225 years of service in both career and volunteer roles. I grew up with my father, grandfather, and uncles as fire service role models and mentors, and always wanted to follow in their footsteps in serving my community. While my residence "community" has changed several times in my life, I have always remained engaged with the fire service, and have found it to be very rewarding in many ways. Of all of my volunteer activities over the years, I have always found the fire service to be both the most demanding and the most rewarding.
How long have you been in the fire service?
39 years
What are your memorable moments as a firefighter?
I have so many over my 39+ years it's hard to single out any as "the most…", but some examples include organizing a regional fire muster when I was 19 years old that lasted for seven years, serving as the youngest President ever in a 70+ year-old volunteer firefighter association in 1979, and of course many memorable incidents. Most recently, leading a county-wide fire service historical committee in the county where I grew up, and developing a web site to share the photos, videos, and stories has been very meaningful for me, and we are just getting started. Check it out at www.marinfirehistory.org.
What contributions have you (and your department) made in your community?
I have lived in a small rural community in the northern Sierra Mountains for the past nine years. Our small volunteer FD in Plumas Eureka has been a leader in regional cooperative efforts through the Plumas County Fire Chiefs Association, especially in training and mutual aid. This benefits our immediate community in many ways. We also run a very low cost fire department, with older but safe engines, and were recently proud to be recognized with a Class 4/4Y ISO rating. We are also working on Firewise Community (NFPA) recognition.
* Interested in serving your community? Find volunteer fire service opportunities at www.MakeMeAFirefighter.org.