Volunteer Spotlight: Robbie Stone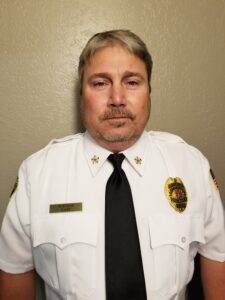 Name: Robbie Stone
Title: Chief
Department: Atkinson County Fire
Location: Pearson, GA
Why are you an NVFC member?
Networking; the resources we get are great. We have made so many contacts for our department. As an incentive, all of our volunteers are [NVFC] members paid by our local county government. Legal issues that arise we are made aware of.
What is your occupation?
Emergency Management Agency director/fire chief
Why are you a fire service volunteer?
Because I love the feeling that I get helping my community. Going to our local schools and teaching fire safety to kids, watching them grow up, and remembering what they learned so many years before. Some of them later become volunteers.

What year did you join the fire or emergency services?
1990
What are your memorable moments as a firefighter or EMS provider?
The most memorable moments are the fire prevention education. I have always loved seeing the preschoolers and watching them grow into adults and then becoming involved with the emergency services. Although that's first, I also love the volunteer. These are some of the most dedicated, reliable people I know. The brotherhood and the family you build is unbelievable.
What contributions have you (and your department) made in your community?
Although I am now a full-time chief, the first 20 years of my career, I was 100 percent a volunteer. Since taking the reins as chief, our department has started a fire prevention campaign worthy of a Nobel Peace Prize. We are in our schools every year, we are at our senior citizens building twice a year, we are at our churches, and we are visiting our local businesses. We are at every event in our county and we also help our neighboring counties. Promoting fire safety education has become the best thing we have ever done because it has lead to a 30 percent drop in fire-related calls within our community over the last five years. None of this was possible without our volunteers.
Interested in serving your community? Find volunteer fire service opportunities at www.makemeafirefighter.org.