Volunteer Spotlight: Micheal Dwyer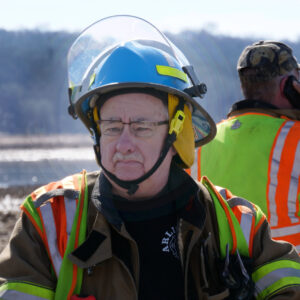 Name: Micheal Dwyer
Title: Firefighter/EMT
Department: Arlington Fire Department
Location: Arlington, NE
Why are you an NVFC member?
The NVFC is a very value-full opportunity to learn, interact, and grow with my brothers and sisters in the fire and emergency services.
What is your occupation?
Semi-retired professional photographer
Why are you a fire service volunteer?
While I originally joined on a whim, there are things that people are called to do. Looking back on a 40-year career as a volunteer/professional, this is clearly something I was called to do. From all the blood, sweat, and tears, to the camaraderie, to the helicopter rides and 2am laughter on the back of a rig, I wouldn't trade this for anything!
What year did you join the fire or emergency services?
1983
What are your memorable moments as a firefighter or EMS provider?
There are so many. Praying for a patient that we've just flown from a scene. The eyes of a terrified child who is clinging to me for safety. The pranks we pull on each other at the fire hall. Seeing the courage of a young firefighter their first time going into a working fire. Calm, assertive leadership when it seems like the world is collapsing around you.
What contributions have you (and your department) made in your community?
I'm proud to say that my department is – and I believe most volunteer fire and EMS department are – the 'old guard' of the community. Men and women risk everything for nothing except the opportunity to serve and to say, "I've got the watch from here."
Interested in serving your community? Find volunteer fire service opportunities at www.MakeMeAFirefighter.org.