Volunteer Spotlight: Matthew Nolting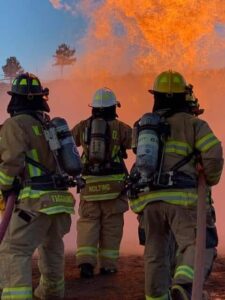 Name: Matthew Nolting
Title: Fire Chief
Department Name: Wet Mountain Fire Protection District
Location: Westcliffe, CO
Why are you an NVFC member?
I joined to expand my network and to make sure I could take care of the men and women in my department. I also joined because I am wanting to go back to Columbia Southern University (CSU) and saw that [the NVFC and CSU] are partners.
What is your occupation?
Fire chief
Why are you a fire service volunteer?
I was a volunteer firefighter for almost 20 years. I stopped volunteering in August of 2020 and am the only paid person in my department.
What year did you join the fire or emergency services?
2001
What are your memorable moments as a firefighter or EMS provider?
I have seen a lot of great things in my almost 20 years of service. The most memorable moment from my time in the service is when I joined the volunteer fire department. We were responsible for protecting about 60 percent of the county, an area bigger than the state of Rhode Island. The reason it is so memorable goes back 12 years before that. I nearly drowned at the age of six and was given a one percent chance of living and even if I did, I was supposed to be brain dead. After I recovered, I met the firefighters and EMS providers from my call. I grew up in the fire station, and a firefighter is all I ever wanted to be. The day I turned 18, I started my dream job, and it has been almost 20 years of service in the best job in the world.
What contributions have you (and your department) made in your community?
My new department is the best department I have worked for, both paid and volunteer. We give out scholarships from our donation funds. We host a fire safety day at the station for the school kids. My best contribution has been as the chief. My team had a rough couple of years under the old administration. I have been able to bring pride, love, and ownership back to the department. I am letting my team go out into the community with projects they develop, and they receive all the credit.  I have not advertised or asked for people to join since I moved here in August. I have brought on 10 new volunteers in the last four months, and that is all due to my team members talking about how good the department is.
Interested in serving your community? Find volunteer fire service opportunities at www.makemeafirefighter.org.