Volunteer Spotlight: Marty Shelton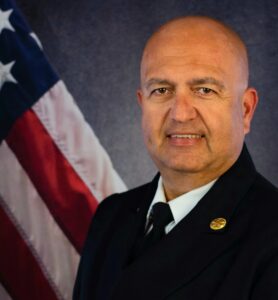 Name: Marty Shelton
Title: Fire chief
Department Name: Tusculum Volunteer Fire Department
Location: Greeneville, TN
Why are you an NVFC member?
The articles on the fire service, the training content, and the eligibility for grants.
What is your occupation?
Administrative chief in a career fire department
Why are you a fire service volunteer?
I have been a volunteer for about 35 years. My dad fell over with a heart attack when I was 10 years old. I had a helpless feeling that I never wanted to have again and I also wanted to provide help to others when they were going through an emergency like I did. I grew up around a small, rural volunteer fire department and it gave me the passion following my father's passing. The television show Emergency also added the drive to be a firefighter.
What year did you join the fire or emergency services?
1986
What are your memorable moments as a firefighter or EMS provider?
The incidents (where) you make a difference from someone having a crisis.
What contributions have you (and your department) made in your community?
We have added needed equipment and continue to build a training program that not only benefits our community, but surrounding areas of our county.
Interested in serving your community? Find volunteer fire service opportunities at www.MakeMeAFirefighter.org.