Volunteer Spotlight: Kathy Weiand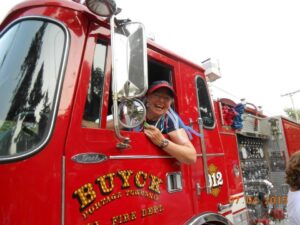 Name: Kathy Weiand
Title: Chief/EMS Director
Department: Buyck Volunteer Fire Department
Location: Buyck, Minnesota
Why are you an NVFC member?
We are a small, rural, but actually growing, fire department. I want to do everything I can to continue to help this department grow. So the more I learn from other departments (and NVFC members), the more knowledge I can research and pass on. The NVFC family gives me a much broader scope than what I could pick up doing research on my own. I look forward to reading the [Volunteer Voices] forum every day to see what new things I can learn! I've been chief for eight years and still have so much to learn. As technologies and firefighting tactics change, it's a steady learning experience. And I am able to stay up to date with it through the NVFC.
What is your occupation?
Business owner of lawn service
Why are you a fire service volunteer?
After my husband passed, I wanted to give back to the community that was always so supportive of us. And because I grew up in a firefighter family, I knew that's what I wanted to do. There was a great need in that area as it was hard to find volunteers to keep the small department going. I was so glad to be able to help and bring the department together and help it grow. To be able to reach out and help members in the community is more gratifying than I could've known.
What year did you join the fire or emergency services?
2010
What are your memorable moments as a firefighter or EMS provider?
Showing up on scene and seeing the relief in the resident's face because we're there. Or in the ambulance crew's face, because they know we will be there to help them. To hear the thanks and see the support from the community will always be in my memory. When we're doing CPR on a patient and getting them on the ambulance, and then hear back a few days later that they not only made it, but made an amazing recovery. Or getting a thank you note from a patient that had fallen out of a tree with so many broken bones, because we went out in the pouring rain into the woods to bring her out to the ambulance and safety.
What contributions have you (and your department) made in your community?
We grew our department from a struggling eight members to 21 members. We got a brush/rescue truck to help with wildfires and EMS calls. We also added 2 snowmobiles with rescue sleds for the growing tourist attraction of snowmobiling. We've had to expand our fire hall to make room for the new equipment and growing members. We bought the property and the building next-door to us to make into a community center so they would have a place to have parties and get-togethers with a full kitchen. We've lowered the ISO rating in the area for the first time since the department was created. We've answered mutual aid calls, more than we had in the past, so local communities know they can count on us, making for a great rapport between us and them. Building a landing zone for Air Medical to have a safe place to land to extricate our patients faster.
Interested in serving your community? Find volunteer fire service opportunities at www.MakeMeAFirefighter.org.