Volunteer Spotlight: Jonathan Guerrero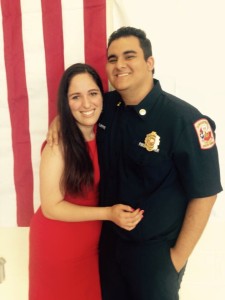 Name:  Jonathan Guerrero
Title:  Firefighter
Department Name:  Decatur Fire Department
Location:  Decatur, TX
What is your career?
I am a full time college student studying Emergency Management at the University of North Texas. I intern with the Little Elm Fire Department and I work for Communities in Schools as an Academic Enrichment Specialist.
How long have you been an NVFC member?
Since I was a Junior Firefighter. I think since 2011.
Why are you an NVFC member?
Because of the newsletters and the opportunities given through scholarship money.
Why are you a volunteer firefighter?
Because I want to leave my community in better shape then when I woke up.
How long have you been in the fire service?
On and off since 2009
What are your memorable moments as a firefighter or EMS provider?
Passing my EMT test for the national registry. Also the first time I got to cook on shift. I did pretty good.
What contributions have you (and your department) made in your community?
I do mentoring and volunteering around my university (I attend the University of North Texas). I think that every time the tones go off and my department responds is making a difference. The one thing I am most proud of is how deep rooted in the community we are.
* Interested in serving your community? Find volunteer fire service opportunities at www.MakeMeAFirefighter.org.