Volunteer Spotlight: Jon Black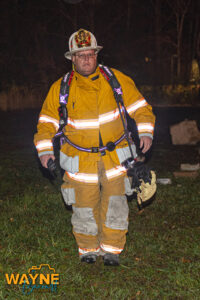 Name: Jon Black
Title: Assistant Fire Chief (R)
Department: Salisbury Fire Department Inc.
Location: Salisbury, MD
Why are you an NVFC member?
I was interested in the safety conference and other trainings available through the NVFC.
What is your occupation?
Soldier & Family Readiness Specialist
Why are you a fire service volunteer?
Firstly, I am a third generation chief officer. My family has five generations of firefighters and EMS providers. I was raised around the firehouse yet was never pressured by my family to join. When I turned 16, I told my father joining the volunteer service is what I wanted to do. He provided me with a leather helmet and gear, and the story continues still today. Having served at the state level in two local associations, I have a need to serve others always.
What year did you join the fire or emergency services?
1982
What are your memorable moments as a firefighter or EMS provider?
One of my fondest memories is fighting a fire started by arson with my father in a balloon style house. Another fond memory is being accepted to Salisbury Fire Department and entering service with my cousin. He eventually went career in the same organization, but we both just completed 30 years of service. Having the Maryland Fire Chiefs Association name the Hall of Fame after my father.
What contributions have you (and your department) made in your community?
I have continued to champion the issues of mental health and suicide in the fire service at the state level on multiple committees and presentations. I assisted in the creation of department equipment standards that have been in place with changes since 2009. My department has one of the leading peer support teams on the eastern shore of MD. The department continues to offer the After the Fire program and a reading program for elementary schools.
Interested in serving your community? Find volunteer fire service opportunities at www.MakeMeAFirefighter.org.