Volunteer Spotlight: Jim Rye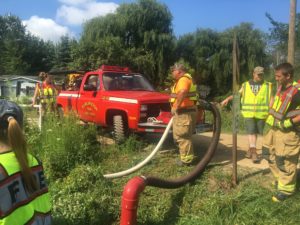 Name: Jim Rye
Title: Captain
Department Name: Burlington Township Fire Department
Location: Clifford, MI
Why are you an NVFC member?
The biggest reason is the National Junior Firefighter Program. I feel it is very important to recruit, train, and mentor our replacements. The NVFC has great information on starting and maintaining a youth firefighter program.
What is your occupation?
Plant safety supervisor/plant manager
Why are you a fire service volunteer?
I have been a volunteer firefighter for 27 years and an instructor for 19 years. I enjoy seeing young firefighters learn and gain confidence. I was never in the military and feel firefighting is a way for me to give back to my community.
What year did you join the fire or emergency services?
1993
What are your memorable moments as a firefighter or EMS provider?
The father of my best friend in high school was the fire chief. The department had a full roster, and he stepped down as chief to allow room for me to enter the fire service. That was 27 years ago, and I am thankful of that every day.
What contributions have you (and your department) made in your community?
I have always wanted to start a youth firefighter program. After taking the idea and information I found on the NVFC web site to the chief and members, we agreed to move forward with the idea. [We recently] received authorization from our township board to start the program. This past year we also started a smoke alarm installation and home safety check program that has been well received.
Interested in serving your community? Find volunteer fire service opportunities at www.makemeafirefighter.org.