Volunteer Spotlight: James King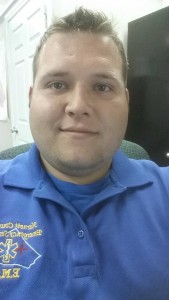 Name: James King
Title: EMT-Paramedic
Department Name: Harnett County EMS
Location: Lillington, NC
What is your career?
I am a full-time career paramedic, work part-time at two departments, and volunteer at one department.
How long have you been an NVFC member?
5 years
Why are you an NVFC member?
Great group of people to be associated with as a volunteer or paid public service worker.
Why are you a volunteer EMT-Paramedic?
My brother had a heat stroke my freshman year in high school. The little first aid I had taken that year saved his life. None of the coaches or camp staff had any first aid or first responder knowledge. I knew from that moment on I wanted to be a paramedic.
How long have you been in the emergency services?
5 years
What are your memorable moments as an EMS provider?
I once had a patient that was having a STEMI (heart attack) and needed pacing and PCI center. Pt was transported appropriately and the crew and myself went into the cath lab the watch the stents being placed. Once the procedure was done, my partner and I entered the room to get our equipment back. The patient was very excited we were still there and tearfully thanked us. That is the reason I get up everyday and go to work, calls like that.
What contributions have you (and your department) made in your community?
CPR training for the public
* Interested in serving your community? Find volunteer fire service opportunities at www.MakeMeAFirefighter.org.