Volunteer Spotlight: Cody McGehee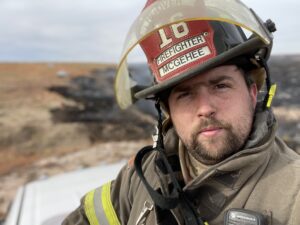 Name: Cody McGehee
Title: Firefighter
Department: Hoover Volunteer Fire Department
Location: Pampa, TX
Why are you an NVFC member?
Value. The organization provides so many products to members for an affordable rate.
What is your occupation?
Sales
Why are you a fire service volunteer?
Community – I love being there for people and helping when it's needed.
What year did you join the fire or emergency services?
2005
What are your memorable moments as a firefighter or EMS provider?
Working with communities during public events. Educating people about the industry and personal safety steps they can take to protect their families.
What contributions have you (and your department) made in your community?
We do community outreach where we provide public safety information to keep people informed to keep their families safe.
Interested in serving your community? Find volunteer fire service opportunities at www.MakeMeAFirefighter.org.