Volunteer Spotlight: Brad Butler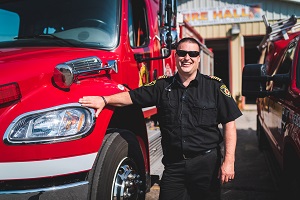 Name: Brad Butler
Title: Fire Chief
Department Name: Town of Happy Valley Goose Bay Fire Rescue
Location: Happy Valley Goose Bay, NL (Canada)
Why are you an NVFC member?
To stay up to date with the volunteer fire service as well as make an application to the NVFC/Globe Gear Giveaway program.
What is your occupation?
Fire Chief
Why are you a fire service volunteer?
To be part of a team that provides a service to the residents of my community.
What year did you join the fire or emergency services?
1999
What are your memorable moments as a firefighter or EMS provider?
There have been various house fires where we have saved priceless mementos or items that mean something to the occupants that had the fire. The smile on their faces has been enough for myself and the members of the department.
What contributions have you (and your department) made in your community?
Through open houses and events where we invite the public into our fire department and show them what we can provide in times of need. We have also recently purchased a fire extinguisher training simulator where we can teach the members of the community how to use a fire extinguisher, if they haven't used one before.
Interested in serving your community? Find volunteer fire service opportunities at www.MakeMeAFirefighter.org.