Volunteer Spotlight: Bill Betts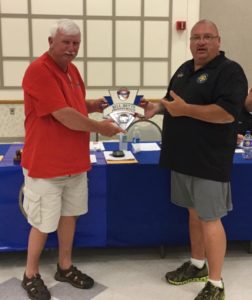 Name: Bill Betts
Department Name: Frederica Volunteer Fire Company
Location: Frederica, DE
Why are you an NVFC member?
To participate and network with the national volunteer fire department members.
What is your occupation?
Retired
Why are you a fire service volunteer?
Followed the footsteps of my Dad, who was a former chief of the department.
What year did you join the fire or emergency services?
1965
What are your memorable moments as a firefighter or EMS provider?
I have participated in many large fires, and it gives you a great feeling when you finish the job at alarms. I have also been active in the county associations as president, state associations as president, and I recently was the president of the Eastern Division of the IAFC.
What contributions have you (and your department) made in your community?
We provide fire, rescue, and ambulance service to the community, and also do helpful events in the community such as Santa runs, smoke detector giveaways, and adopt-a-family at Christmas.
Interested in serving your community? Find volunteer fire service opportunities at www.makemeafirefighter.org.