USFA Seeking Case Studies for Publication on Fire and EMS Response to Civil Unrest
February 8, 2022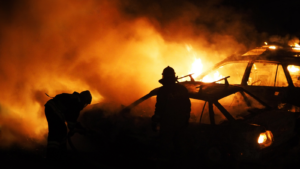 The U.S. Fire Administration has commissioned a publication regarding fire and EMS response to civil unrest. The purpose of the document will be to influence the fire and EMS community to assess, improve, and manage situations dealing with civil unrest. As part of the research process, the authors are seeking SOPs/SOGs related to civil unrest incidents, lessons learned, best practices, and case studies from a diverse group of fire and/or EMS agencies about their experience with civil unrest events.
The publication will include the following considerations:
Personnel
Stations/facilities
Apparatus
Community
Response and operations
Agencies or individuals that may have information beneficial to this civil unrest document to assist other fire and EMS organizations can contact Ken Riddle at kriddle@pcgus.com or 702-287-6546.