TN and MS Volunteer Fire Departments Are Latest Recipients of MSA and Dupont's Globe Gear Giveaway
October 18, 2022
13 departments will receive four new sets of gear and helmets in 2022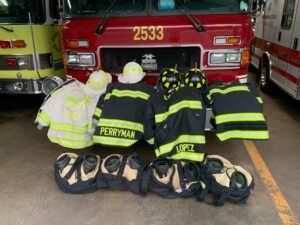 Shortages in personal protective equipment (PPE) are a widespread issue for many volunteer fire departments. To address this need, MSA Safety, DuPont Personal Protection, and the National Volunteer Fire Council (NVFC) have been partnering since 2012 to give away state-of-the-art gear to volunteer fire departments in need. In 2022, a total of 13 departments will be awarded with four new sets of turnouts and four new helmets. Additionally, the first 500 applicants received a one-year NVFC membership, courtesy of MSA.
The latest recipients in the giveaway are Debusk Volunteer Fire Department (Greeneville, TN) and Snow Lake Volunteer Fire Department (Ashland, MS).
Debusk Volunteer Fire Department
Located in a small town in eastern Tennessee, the Debusk Volunteer Fire Department is comprised entirely of volunteers. It serves over 2,600 residents across 6.5 square miles, and answers about 135 calls annually.
With multiple unsuccessful grant attempts and no purchasing capability, the department has been struggling to equip its members with the proper gear. The current gear being used ranges from 15-20 years old, which makes them non-compliant to NFPA standards. Firefighters have to make do with gear that is torn, bulky, and severely damaged. This poses a significant safety risk to the department's dedicated volunteers.
"These men and women go above and beyond each and every time we are dispatched regardless of what they may run into," said chief Heath Gregg. "They deserve to have the equipment they need to perform their duty."
Snow Lake Volunteer Fire Department
Within the woods of the Holly Springs National Forest in Mississippi you'll find the Snow Lake Volunteer Fire Department (SLVFD). The all-volunteer department has 12 members who serve 1,300 residents across 150 square miles. SLVFD responds to structure, wildland, and vehicle fires, as well as medical calls. Additionally, the department provides backup to the five other volunteer departments in the county, expanding their service area by 400 square miles. All of the departments in the county are 100% volunteer-run and manpower is at a minimum, especially during the day.
With calls on the increase and diesel fuel costs stretching its already-slim budget, the SLVFD has struggled to find the money to purchase new equipment. All of its turnouts are at least 15 years old, and they are heavy, especially for the over 60-years-old firefighters who make the majority of the calls. Similarly, most of the department's helmets are over 10 years old, with some proving difficult to see through.
"The new turnouts and helmets would go to the firefighters who make the most calls and are the most likely to enter a structure," said firefighter Gerry Printz. "Starting with four new sets of gear could be the impetus to upgrade our other turnouts – one or two sets a year. We also hope that by upgrading our turnouts, it will help us attract additional younger volunteers."
Additional awards will be made monthly throughout 2022. Stay tuned to the NVFC web site, Dispatch newsletter, and Facebook and Twitter pages, as well as the Globe Facebook page, for additional information and announcements.
About MSA
Established in 1914, MSA Safety Incorporated is the global leader in the development, manufacture and supply of safety products that protect people and facility infrastructures. Many MSA products integrate a combination of electronics, mechanical systems and advanced materials to protect users against hazardous or life-threatening situations. The company's comprehensive product line is used by workers around the world in a broad range of markets, including the oil, gas and petrochemical industry, the fire service, the construction industry, mining and the military. MSA's core products include self-contained breathing apparatus, fixed gas and flame detection systems, portable gas detection instruments, industrial head protection products, firefighter helmets and protective apparel, and fall protection devices. With 2021 revenues of $1.4 billion, MSA employs approximately 4,800 people worldwide. The company is headquartered north of Pittsburgh in Cranberry Township, Pa., and has manufacturing operations in the United States, Europe, Asia and Latin America. With more than 40 international locations, MSA realizes approximately half of its revenue from outside North America. For more information visit MSA's web site at www.MSAsafety.com.
About DuPont Personal Protection
From first responders to industrial workers, DuPont provides a wide range of personal protection solutions, including some of the most trusted and innovative brands in the industry, such as Kevlar®, Nomex®, Tyvek® and Tychem® to meet your safety needs. More information can be found at personalprotection.dupont.com.
About DuPont
DuPont (NYSE: DD) is a global innovation leader with technology-based materials and solutions that help transform industries and everyday life. Our employees apply diverse science and expertise to help customers advance their best ideas and deliver essential innovations in key markets including electronics, transportation, construction, water, healthcare and worker safety. More information about the company, its businesses and solutions can be found at www.dupont.com. Investors can access information included on the Investor Relations section of the website at investors.dupont.com.
DuPont™, the DuPont Oval Logo, and all products, unless otherwise noted, denoted with ™, ℠ or ® are trademarks, service marks or registered trademarks of affiliates of DuPont de Nemours, Inc.
About the NVFC
The National Volunteer Fire Council (NVFC) is the leading nonprofit membership association representing the interests of the volunteer fire, EMS, and rescue services. The NVFC serves as the voice of the volunteer in the national arena and provides critical resources, programs, education, and advocacy for first responders across the nation. Learn more at www.nvfc.org.