Three Fire Departments to Receive $10,000 Each Through CHEMTREC® HELP Award
November 1, 2022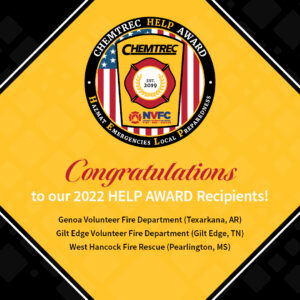 CHEMTREC®, in partnership with the National Volunteer Fire Council (NVFC), is pleased to announce three NVFC members will be awarded $10,000 each through the 2022 CHEMTREC® Hazmat Emergencies Local Preparedness (HELP) Award. The award aims to help volunteer fire departments enhance preparedness and strengthen response capabilities as it relates to hazmat events.
The HELP Award was launched in 2019 and to-date has provided a total of $115,000 to 12 departments to support their hazmat response efforts. This year's recipients are as follows.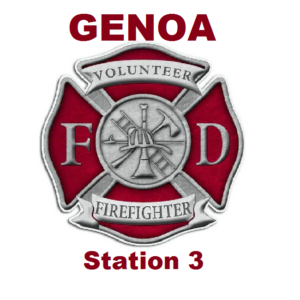 Genoa Volunteer Fire Department (Texarkana, AR)
This all-volunteer department located in southwest Arkansas is dedicated to taking care of their expanding rural community. Hazardous materials present a daily threat to this rural town: trains pass through carrying them and tractor-trailers transport them back and forth to a nearby chemical plant. Most recently, the town saw the derailment of eight railcars and several hazmat fires involving 18-wheelers. Its volunteer firefighters need additional training and equipment to handle these potentially devastating situations.
With the CHEMTREC® HELP Award, the department plans to bring hazmat training to its district and train volunteers on how to better respond to potential hazmat incidents. It also plans to purchase the necessary personal protection equipment, kits, and a decontamination station.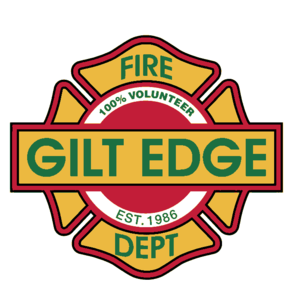 Gilt Edge (TN) Volunteer Fire Department
The volunteers of the Gilt Edge Volunteer Fire Department are passionate about their community and what they do. They are also advocates of hazmat preparedness. The town faces hazmat threats on the roads, in their farms, and on the water: pesticide and fuel spills occur on land, chlorine and ammonia are used in large quantities nearby, and large river barges pass through carrying hazardous materials.
While the volunteer firefighters are more than adequately trained on how to handle hazmat incidents, they lack the resources to best leverage these skills. The department plans to use the CHEMTREC® HELP Award to purchase an enclosed trailer to haul its hazmat equipment, as well other supplies such as absorbent pads, overpack drums, and decontamination equipment.
West Hancock Fire Rescue (Pearlington, MS)
This tight-knit community in southern Mississippi faces hazmat threats daily and responds to an average of 300 hazmat calls annually. The volunteer-run fire department is responsible for miles of an interstate highway that sees motor vehicle accidents involving semi-trucks with chemical and fuel spills. Additionally, it provides primary fire and hazmat response for a nearby industrial park.
The department plans to use the CHEMTREC® HELP Award to further hazmat training initiatives for its personnel and purchase up-to-date hazmat gear and supplies. Its ultimate goal is to provide on-site coverage for the aforementioned industrial park.
Learn more about the CHEMTREC® HELP Award.
About CHEMTREC®
CHEMTREC® is the leading source of 24/7 call center support and information during hazardous materials incidents. CHEMTREC is the single point of contact that connects emergency responders with everyone involved – manufacturers, shippers, consignees, carriers, and government agencies. CHEMTREC is equipped to handle any situation and any class of hazardous material.
CHEMTREC and its team of trained, experienced Emergency Service Specialists provide emergency responders with the information they need to safely and effectively manage chemical shipping incidents, including guidebooks, training opportunities, and industry resources. CHEMTREC's service is complimentary for emergency responders.
About the NVFC
The National Volunteer Fire Council (NVFC) is the leading nonprofit membership association representing the interests of the volunteer fire, emergency medical, and rescue services. The NVFC serves as the voice of the volunteer in the national arena and provides critical advocacy, resources, programs, and education for first responders across the nation. Learn more at www.nvfc.org.