The NVFC First Responder Helpline: Assistance When You Need It
October 3, 2023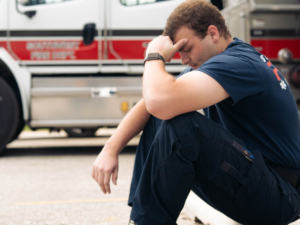 The National Volunteer Fire Council (NVFC) strives to provide volunteer firefighters, EMS providers, and rescue workers with the resources they need when they need it. Recognizing the gap in behavioral health support services for many volunteers, the NVFC partnered with Provident to launch the First Responder Helpline in October 2022.
Similar to an employee assistance program, the NVFC First Responder Helpline is there in times of crisis as well as to provide support and assistance with work-life stresses. NVFC members and their household family can call the helpline for confidential counseling, resources, and referrals for a range of issues including stress management, anxiety, relationship issues, financial or legal concerns, substance misuse, grief or loss, child or elder care, and more.
The NVFC First Responder Helpline is provided through Provident by BHS, a leader in providing emotional and behavioral health consultations, in partnership with Responders 1st Call. BHS has been providing mental and behavioral health services to organizations since 1983. The contact center is staffed by master's level clinicians with an average of five years of experience specially trained in assisting and supporting first responder groups.
Individuals can join the NVFC to access the helpline and many other benefits, including free training, an AD&D policy, and access to the Volunteer Voices forum. Chiefs looking to support their department members' mental wellbeing can supply them with an NVFC membership to provide them with all of these benefits. Membership is just $21 a year per person. Learn more and sign up at www.nvfc.org/join.
Learn more about the NVFC First Responder Helpline at www.nvfc.org/helpline. Find more resources for responder behavioral health from the NVFC's Share the Load program at www.nvfc.org/help.
The NVFC First Responder Helpline is brought to you by the NVFC and Provident and supported by FirstNet, Built with AT&T; Josh Cellars; and Lincoln Financial Group.
About the NVFC
The National Volunteer Fire Council (NVFC) is the leading nonprofit membership association representing the interests of the volunteer fire, EMS, and rescue services. The NVFC serves as the voice of the volunteer in the national arena and provides critical tools, resources, education, programs, and advocacy for first responders across the nation. Find out more at www.nvfc.org.
About Provident
Provident has been offering custom insurance solutions for ESOs for over 90 years. Programs include Property & Casualty, Accident & Health, 24-Hour Accidental Death & Dismemberment, Group Life, Group Critical Illness, and Cancer policies. Please visit us at https://www.providentins.com or contact us at info@providentins.com to learn more.