The First Responder Helpline is Here When You Need It
May 30, 2023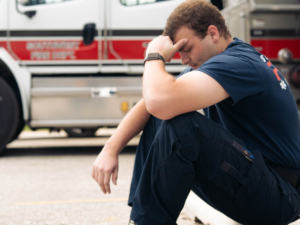 Emergency responders and their families face many challenges, and these can affect their wellbeing. While many departments offer employee assistance programs (EAPs) to help their members deal with work-life issues, such services may not be available for volunteer firefighters and EMS providers. Recognizing this service gap, the National Volunteer Fire Council (NVFC) partnered with Provident to offer a solution tailored to the distinct needs of our members.
The NVFC First Responder Helpline is a benefit available to all NVFC members and their household family. It provides immediate assistance in a crisis moment as well as confidential counseling, resources, and referrals to assistance for a range of issues, including:
Stress management
Depression
Family conflict
Anxiety
Relationships
Financial or legal concerns
Substance misuse
Grief or loss
Problem gambling
Child or elder care
This program is provided through Provident by Business Health Services (BHS), a leader in providing emotional and behavioral health consultations, in partnership with Responders 1st Call. BHS has been providing mental and behavioral health services to organizations since 1983. The contact center is staffed by master's level clinicians with an average of five years of experience specially trained in assisting and supporting first responder groups.
The First Responder Helpline can provide up to five telephone coaching sessions (or the number of sessions allowed by state law) with master's degreed counselors who identify stress triggers, teach coping techniques, and develop an ongoing stress management plan. In addition, this program offers consultation, resources, and referrals for the everyday concerns that can cause distractions and loss of focus when a first responder needs it most, including:
Family – Childcare, elder care, adoption research and referrals
Legal – Access to attorneys for 30-minute phone or in-person legal consultation
Financial – Referrals to consultants to assist with debt management, credit problems, retirement planning, or college funding
To access the First Responder Helpline, members can login to the members section of the NVFC web site and go to the membership benefits page to find the number. Non-members can join for just $21 to access this and all membership benefits.
Fire chiefs are encouraged to let their members know about this resource and encourage their members to reach out if they need help.
Learn more about the NVFC First Responder Helpline at www.nvfc.org/helpline.
The First Responder Helpline is brought to you by the NVFC and Provident. Thank you to our supporters FirstNet, Built with AT&T, Josh Cellars, and Lincoln Financial Group.