Take Part in Crash Responder Safety Week, November 13–17
November 7, 2023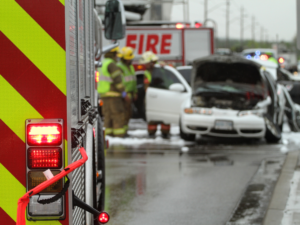 Crash Responder Safety Week (CRSW), taking place November 13–17, brings attention to the work of every traffic incident responder. This year's theme asks road users to Protect Those Who Protect You.
Every minute of every day, fire and rescue, emergency medical services, law enforcement, public works, transportation, towing, and other responders work roadside to make roadways safe for all road users. These traffic incident responders put their lives at risk when clearing each of the nearly 7 million annual motor vehicle crashes and the broader range of roadway incidents such as stalled vehicles or roadway debris.
In keeping roadways safe, a traffic incident responder is struck and killed nearly every week, and many more traffic incident responders sustain life-altering injuries. When a traffic incident responder or a response vehicle is struck, the impacts are far reaching and put a greater long-term strain on limited resources that service broad community needs.
That is why the National Volunteer Fire Council (NVFC) joins in the effort to encourage every responder to act:
Encourage traffic incident responders in your community to take the free, four-hour National Traffic Incident Management (TIM) Responder training available online through the National Highway Institute or in person through TIM Coordinators within each state. The Responder Safety Learning Network also offers a TIM certificate.
Make an extra push during CRSW to inform drivers in your region about your state's Slow Down, Move Over law, which requires drivers to slow down, and, if possible, to move over when approaching incident response vehicles such as ambulances, fire engines, tow trucks, safety service patrols, and municipal or utility vehicles.
If you are a traffic incident responder, share on social media what it is like to work roadside when drivers do not slow down and move over, using #CRSW. Be sure to share the message "Protect Those Who Protect You."
As a road user, share on social media your appreciation for our traffic incident responders, and share stories of when a traffic incident responder came to your rescue, using #CRSW.
CRSW is an opportunity to shift driver behavior, encourage adherence to Move Over laws, and to promote life-saving National TIM Responder Training for all traffic incident responders. FHWA has established, in cooperation with National CRSW Committee, the CRSW Campaign Toolkit to help with press outreach and social media engagement. The NVFC also has public awareness videos you can use, as well as links to responder training resources.
You can also register for the National CRSW Kickoff Webinar taking place on November 14 at 1pm ET. Please lend your voice to promoting Crash Responder Safety Week 2023.