Submit Your Proposal to Speak at the 2023 NVFC Regional Wildland Symposium
September 27, 2022
Pre-registration also open for attendees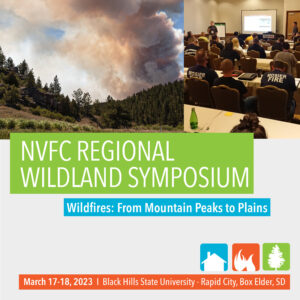 The National Volunteer Fire Council (NVFC) is now accepting proposals from qualified instructors and speakers to present at the inaugural NVFC Regional Wildland Symposium, which will take place March 17-18, 2023, in Rapid City, SD.
This wildland fire focused event will be an opportunity for fire and EMS personnel from across the region and country to participate in valuable classroom training as well as exchange ideas and best practices with their peers. The conference is focused on the Plains region, but open to department personnel nationwide. Breakout sessions will be 90 minutes in length.
The 2023 NVFC Regional Wildland Symposium theme is Wildfires: From Mountain Peaks to Plains. Examples of relevant presentation topics include, but are not limited to:
Funding opportunities for wildfire mitigation initiatives
How to implement wildfire mitigation activities in a community
Raising wildfire community awareness
Community wildfire protection plans
Evacuation plans
Wildland mitigation or firefighting best practices for volunteer fire departments with limited resources
Volunteer wildfire response
Mutual aid/group initiatives
FEPP: acquisitions and pitfalls
Health or safety issues for wildland firefighters (PPE, equipment, training)
Incident Command in the wildland
Aviation communications
A peer review team will evaluate all presentation proposals. Selections will be made based on quality, relevance, focus, practical application, and the presenter's experience and credentials. Notifications on a decision will be sent by November 15, 2022.
The NVFC will cover travel expenses and provide a stipend for selected presenters. Teaching teams are welcome to apply, but only one instructor per course can receive travel reimbursement/stipend. Please note, while organizations and companies are welcome to apply to share their subject matter expertise, all courses must be educational in nature.
Learn more and submit your proposal by October 15, 2022.
Not presenting, but want to attend the conference? Pre-register here to get information as it becomes available. Attendance is limited! Stay tuned to the conference web site at www.nvfc.org/symposium for more details. Questions? Contact conference planner Rachel Buczynski at Rachel@nvfc.org or 202-887-5700 x130.
About the NVFC
The National Volunteer Fire Council (NVFC) is the leading nonprofit membership association representing the interests of the volunteer fire, EMS, and rescue services. The NVFC serves as the voice of the volunteer in the national arena and provides critical tools, resources, education, programs, and advocacy for first responders across the nation. Find out more at www.nvfc.org.