Spotlight on Rehab: Hennepin County (MN) Life Safety Trailers for Firefighter Rehabilitation
June 1, 2021
By Chief Tim Bush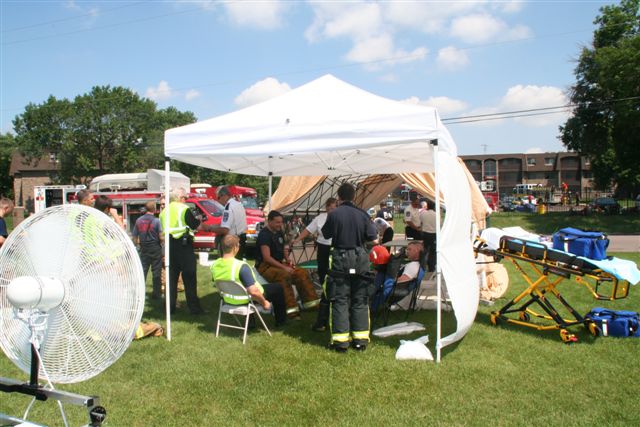 Increasing firefighter health and safety has been a priority in the fire service for decades. In the late 1980s, the National Fire Protection Association released NFPA 1500, Standard on Fire Department Occupational Safety and Health Program to address common dangers and protective measures for firefighters. In the 1990s the United States Fire Administration published FA-114, Emergency Incident Rehabilitation, which included a sample standard operating procedure (SOP) for firefighter rehabilitation. This was done to provide a framework for protecting firefighters working at the scenes of fires and training exercises.
In 2003, NFPA 1584, Recommended Practice on the Rehabilitation of Members Operating at Incident Scene Operations and Training Exercises was issued. This was intended to provide more specific guidelines for fire departments and was upgraded to become an NFPA standard in 2008.
Over the next couple years, many fire departments in and around the Twin Cities of Minnesota began to implement basic guidelines to address firefighter rehabilitation. Unfortunately, there were differences depending on incident size and individual department preferences. Looking to the NFPA 1584 standard, it became increasingly clear that rehab needed to be a part of every response, and not just the big ones.
In early 2010, the Minnesota State Fire Chiefs Association formed a firefighter rehab group with the goal of creating a plan for Minnesota fire departments that would be scalable and easy to follow, without a need for excessive oversight. It was also important to find common terminology that could be easily used by both fire departments and EMS providers as most Minnesota communities are served by non-fire EMS providers and fire departments with ambulances are the exception.
One potential hurdle to success was deciding who would be in charge of firefighter rehabilitation at the scene of emergencies. In other words, who would have the authority to approve returning to additional work cycles or prohibit firefighters from returning if they are found to be medically unfit after evaluation. This concern was minimized by assigning an officer to be in charge of a formal rehabilitation division.
In the Twin Cities Metro region, initial efforts led fire departments and EMS providers to work together to provide training for firefighters and medics in order to establish consistent rehabilitation procedures across local jurisdictions.
In Hennepin County, eight hazardous materials response trailers were positioned in strategic locations, but saw limited use related to hazardous materials events. This limited response encouraged discussion within the Hennepin County Fire Chiefs Association (HCFCA) to determine whether this resource might be leveraged and expanded to include firefighter rehabilitation. Initially, four of the trailers were reconfigured to include equipment used for firefighter rehabilitation at emergency scenes. The other four trailers remained configured solely for hazardous materials response, but available for firefighter rehabilitation as needed.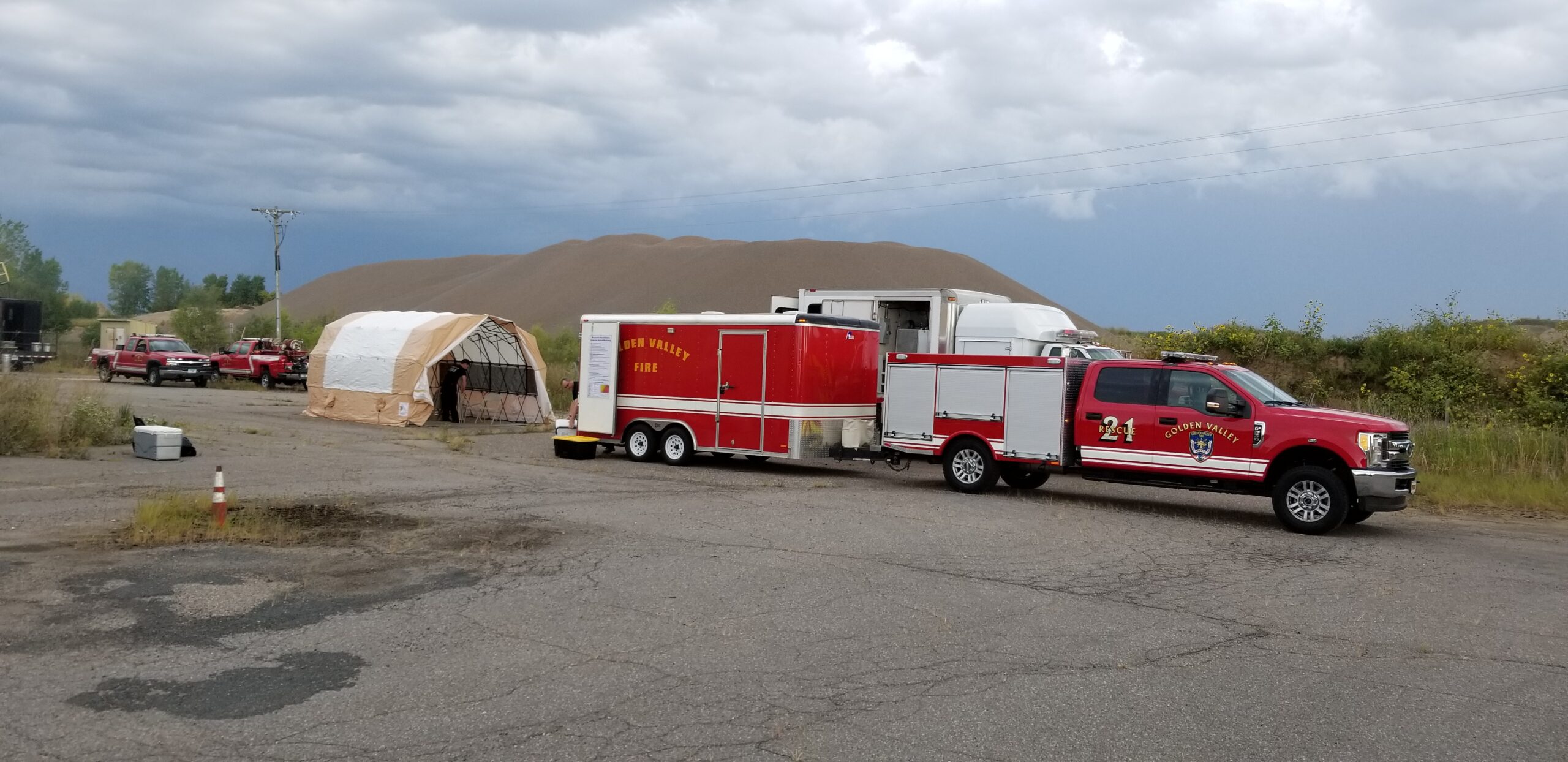 By 2015, HCFCA designated the hazardous materials response trailers as Life Safety Units, more commonly referred to as LSU trailers. This resource was available by request for use at any training event, fire, or other emergency within Hennepin County. However, not every agency was taking advantage of this resource and automatically requesting their use during fire events.
Hennepin County uses a box alarm system to standardize requests for mutual aid during fires and other emergency events. Box alarms provide an opportunity to increase standardization of resource requests, as most departments in Hennepin County have at least four levels that are built into our computer aided dispatch systems. A review of LSU usage revealed that although LSU trailers were available to all fire departments in Hennepin County, they were not always included in department box alarms. Some departments assigned one LSU in their box alarms, while some included two, and others did not include any. Additionally, there was a lack of consistency to what level of alarm would trigger a mutual aid request for an LSU trailer to provide firefighter rehabilitation at emergency scenes.
HCFCA has an LSU committee that meets periodically to discuss usage and ways to improve the value of this resource. The committee created best practice recommendations to help encourage and standardize the use of LSU trailers during emergency events. An important recommendation encourages fire departments to balance their box alarm assignments by assigning a primary LSU to second alarms and a secondary LSU to the fourth alarm.
HCFCA also encourages fire departments to include LSU trailer usage during larger training exercises, especially NFPA 1403 live-burn training events.
Today eight LSU trailers are positioned within Hennepin County and ready to respond to emergencies as part of our box alarm system. LSU trailers respond with a crew who is tasked with monitoring firefighters going through rehabilitation, including:
Accountability
Rest
Hydration and/or electrolyte replacement
Cooling/warming (passive and/or active)
Medical assessment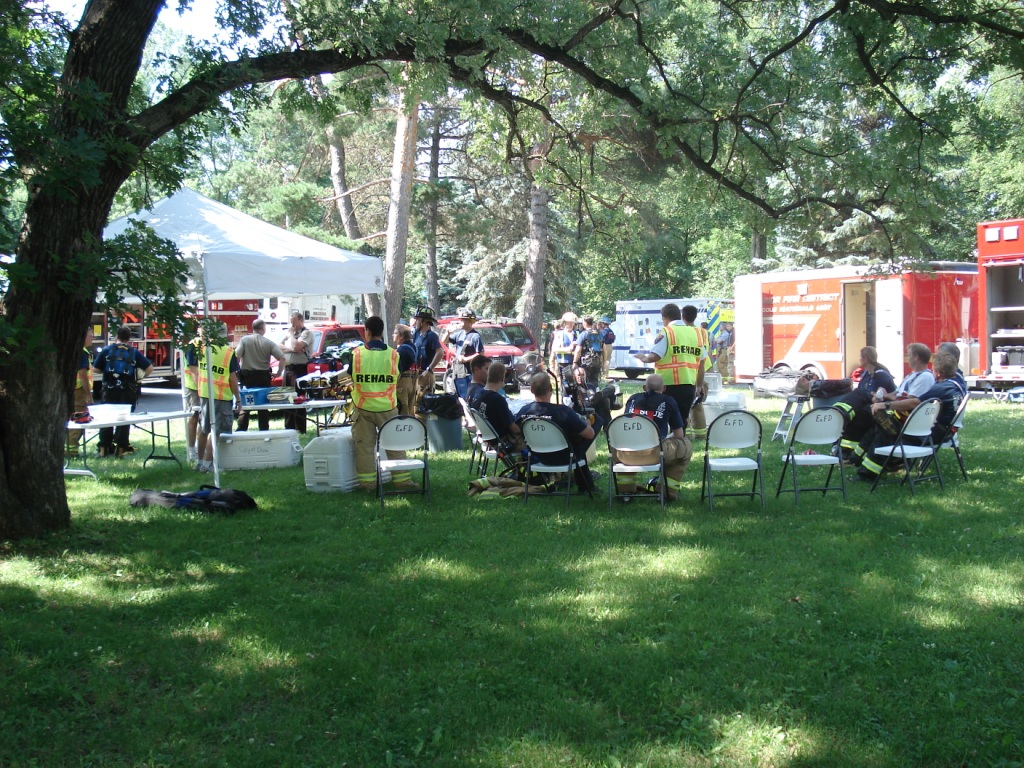 Firefighters checking in to the rehab division are monitored using a standard protocol that is adjusted depending on weather conditions, such as heat or cold. Rehab staff monitor each firefighter's mental status, speech, gait, skin color/temp, respiratory effort, and may require additional rest/rehydration for individuals not meeting exit assessment criteria.
Having firefighters from another agency conduct an independent assessment is a major advantage of the LSU trailer system. It helps reduce the chances of a firefighter talking their way out of rehab and into another work cycle when they don't meet exit criteria. In most cases, if exit criteria is not met after an additional 30 minutes in the rehabilitation division, firefighters are referred to an additional EMS assessment. Additional EMS assessment is normally conducted by paramedics and may include use of advanced monitoring equipment.
The use of LSU trailers, including them in standard box alarms, and providing firefighter rehabilitation and medical evaluation allows for early intervention. This provides better monitoring of the health and safety of our firefighters and has prompted advanced medical care in several instances that might otherwise have been missed.
Special thanks to Maple Grove Assistant Fire Chief Rob Pearson for sharing his experience and notes from his active participation over the past 10 plus years of developing, reviewing, and improving ways to provide the best on-scene firefighter rehabilitation.
Tim Bush is the fire chief for the Maple Gove (MN) Fire Department.
References
Woodbury, B., & Merrill, S.A. (2019). EMS Emergency Incident Rehabilitation. StatPearls Publishing, https://www.ncbi.nlm.nih.gov/books/NBK537174/#__NBK537174_ai__
FA-114 (1992) Emergency Incident Rehabilitation FA-114. United States Fire Administration, https://www.hsdl.org/?view&did=1249
FA-314 (2008) Emergency Incident Rehabilitation FA-314. United States Fire Administration,  https://www.hsdl.org/?view&did=485543
Best Practices (2018) HCFCA LSU Balance Recommendations.
Standard Work Cycles (Recycle & Rehabilitation) – Maple Grove Fire Department Standard Operating Procedures (2020), https://www.safetystanddown.org/wp-content/uploads/2021/03/Maple-Grove-Fire-Department-Rehab-SOP.pdf