Save the Date for the 2023 NVFC Regional Wildland Symposium
September 20, 2022
Call for papers now open for March conference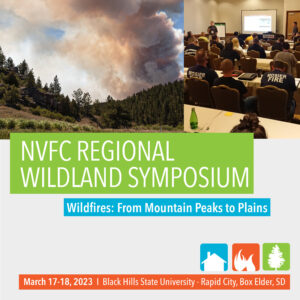 The National Volunteer Fire Council (NVFC) is pleased to announce that the inaugural NVFC Regional Wildland Symposium will take place March 17-18, 2023, in Rapid City, SD. The conference theme is Wildfires: From Mountain Peaks to Plains.
This wildfire-focused event is an opportunity for first responders and other stakeholders to participate in valuable classroom training as well as exchange ideas and best practices with their peers. The conference is open to all first responders nationwide but will be targeted toward volunteer firefighters in plains and mountain states that respond to wildfires and those interested in learning more about community wildfire mitigation. More details, including a stipend program, travel information, and registration, will be available soon. Pre-register for the Wildland Symposium to stay informed of event details as they are announced.
The NVFC is now accepting proposals from qualified instructors and speakers to present at the Symposium. Examples of relevant presentation topics include, but are not limited to, mitigation initiatives, grants and funding, increasing community awareness, and volunteer wildland fire response. Learn more and submit your proposal by October 15, 2022.
Stay tuned to the conference web site at www.nvfc.org/symposium for more details. Questions? Contact conference planner Rachel Buczynski at Rachel@nvfc.org or 202-887-5700 x130.
About the NVFC
The National Volunteer Fire Council (NVFC) is the leading nonprofit membership association representing the interests of the volunteer fire, EMS, and rescue services. The NVFC serves as the voice of the volunteer in the national arena and provides critical tools, resources, education, programs, and advocacy for first responders across the nation. Find out more at www.nvfc.org.