NVFC Recruitment & Retention Experience

Quick links: Event Overview • Travel Information • Scholarships and Travel Stipend • Call for Presentations • Sponsorship • Questions?
---
2022 NVFC Recruitment & Retention Experience | Mesa, Arizona

EVENT OVERVIEW
WHEN: Friday, September 16, through Saturday, September 17, 2022. The NVFC has also partnered with IAFC VCOS to offer additional training on Sept. 18-19 – click here to read more. Please note – the VCOS R&R training is now full. Please contact Derek Bullington at Derek.Bullington@iafc.org to be added to the waitlist.
WHERE: Delta Hotels Phoenix Mesa, 200 North Centennial Way, Mesa, AZ 85201
PURPOSE: The NVFC Recruitment and Retention (R&R) Experience is a new interactive education and networking conference that will bring together fire and EMS personnel from across the country to participate in valuable classroom training and idea exchange relating to volunteer emergency service staffing issues.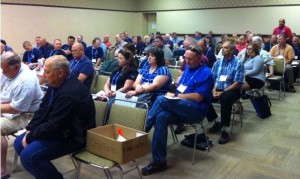 NETWORKING SOCIAL: The NVFC R&R Experience features an evening networking social on Friday, September 16 – a chance to relax and connect with your colleagues. The social includes refreshments and a mini-expo. Sponsorships are available!
WHO SHOULD ATTEND: The conference is open to all first responders nationwide and will be targeted toward department leadership and recruitment officers.  Attendance is limited.
REGISTER: This event is now full.
---
HOTEL AND TRAVEL
The R&R Experience will be held at the Delta Hotels by Marriott Phoenix Mesa, located just minutes north of Phoenix, AZ. The NVFC room block is sold out but the hotel still has rooms available at the regular rate.  Reserve your room by:
Another local hotel option is the Azure Hotel, www.theazurehotel.com. The Azure is 1 mile from the conference hotel.
The Delta Hotels Phoenix Mesa is a 20-minute ride from the Phoenix Sky Harbor International Airport (PHX). The hotel features desert views, free Wi-Fi, a fitness center, an outdoor pool, and free parking. It is within walking distance of restaurants, the Arizona Museum of Natural History, and the Mesa Contemporary Arts Museum. Learn more about Mesa.
---
TRAVEL STIPENDS
Scholarships: The scholarship application period is now closed.
Stipends: The NVFC is pleased to offer stipends to help offset the travel costs related to the Recruitment & Retention (R&R) Experience. Each individual requesting a stipend must apply separately. Stipends provide $750 per person for reimbursement of travel and conference expenses, including lodging at the conference hotel rate, round-trip airfare, cab/shuttle fare, and/or mileage, and the registration fee. Please note that attendees will be responsible for any additional expenses.
The stipend application period is now closed.
Review schedule:
Received by May 15 – Notifications by June 10
Received by June 15 – Notifications by July 10
Received by July 15 – Notifications by August 10
Criteria:
Applicants must be a volunteer department leader or R&R officer/coordinator.
You must be a current member of the NVFC. Membership options and benefits can be found at www.nvfc.org/join.
Applicants must live more than 60 miles from Mesa.
Applicants are required to submit a letter of recommendation from a department or city leader.
A maximum of two representatives per department can receive reimbursement. (Please note that scholarships are selected on an individual basis; not by department.)
Only one individual per household will be considered.
Applicants must register for the conference at the rate of $129 to secure their spot.
---
CALL FOR PRESENTATIONS
The call for presentations is now closed.

The National Volunteer Fire Council (NVFC) will host the NVFC Recruitment and Retention (R&R) Experience on September 16-17, 2022, in Mesa, AZ. The NVFC is now accepting proposals from qualified instructors and speakers for presentations to educate first responders about critical staffing issues in the volunteer fire and emergency services.
The 2022 NVFC R&R Experience theme is "A Forum for the Future." This R&R-focused event will be an opportunity for fire and EMS personnel from across the country to participate in valuable classroom training as well as exchange ideas and best practices with their peers. The conference is open to all first responders nationwide but will be targeted toward department leadership and recruitment officers. Breakout sessions will be 90 minutes or 3 hours in length.
Examples of relevant presentation topics include, but are not limited to:
Diversity & inclusion
Working intergenerationally
Forming community partnerships
Working with local government
Recruitment tips and tricks
Work/life/volunteer balance
Marketing your department
Finding funding
Reputation management
Department culture
Youth development
Supporting your volunteers
Applications must be submitted by March 1, 2022. A peer review team will evaluate all presentation proposals. Selections will be made based on quality, relevance, focus, practical application, and the presenter's experience and credentials. Selected presenters will be notified by March 31.
The NVFC will cover travel expenses and provide a stipend for the selected presenters. Teaching teams are welcome to apply, but only one instructor per course can receive travel reimbursement/stipend. Please note, while organizations can apply to share their subject matter expertise, all courses must be educational in nature.
---
SPONSORSHIP
Sponsorship opportunities are available for an evening reception, meals, technology, and more! To learn more, please contact Meg Goldberg, NVFC engagement manager, at meg@nvfc.org or 202-887-5700 x117. Sponsoring the NVFC Recruitment and Retention Experience provides a unique opportunity to be in front of, and to highlight your brand and what you do to firefighters, EMTs, and rescue personnel from across the United States. It shows your commitment and support to the industry and NVFC.
Thank you to our current sponsors!
| | |
| --- | --- |
| DripDrop ORS (oral rehydration solution) electrolyte powder sticks provide dehydration relief fast. Invented by a doctor to save lives while serving on a humanitarian aid trip. Used by medical professionals, elite athletes, firefighters, and every day people who suffer from dehydration due to heat exhaustion, illness, travel, and more. | |
| Lincoln Financial Group provides advice and solutions that help empower people to take charge of their financial lives with confidence and optimism. Today, more than 17 million customers trust our retirement, insurance, and wealth protection expertise to help address their lifestyle, savings, and income goals, as well as to guard against long-term care expenses. In 2012 Lincoln Financial Group's Retirement Plan Services business announced the introduction of a new National LOSAP HEROPLUSSM Program. This first of its kind Length of Service Award Program was designed for individual Fire and Emergency Services departments to help recruit, retain, and reward dedicated volunteers with a program that will help boost their retirement readiness. The National LOSAP HEROPLUSSM offers sponsors ongoing program support in an employer-sponsored retirement plan, and is customizable at the local level to meet the specific needs of the plan sponsor. For more information about the HEROPLUS Program please visit www.losap.com. | |
---
QUESTIONS?
Contact Rachel Buczynski, conference planner, at Rachel@nvfc.org or 202-887-5700 x130. Read about 2021 R&R Experience here. Learn more about the NVFC's health & safety conference, the NVFC Training Summit, at www.nvfc.org/summit.