Helping Responders in Need: Information for Behavioral Health Professionals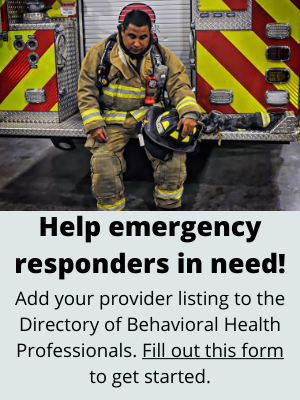 Most people are aware of the physical demands that first response activities place on firefighters and EMS/rescue workers. But it is important to also realize the impact that fighting fires and responding to medical incidents and other emergencies has on the mental wellbeing of emergency personnel. These responders witness traumatic events on a regular basis.
Firefighters and EMS providers may face a wide range of behavioral health concerns such as anxiety, depression, burnout, post-traumatic stress, addiction, and relationship challenges, among others. The majority of the nation's firefighters are volunteers, meaning they are balancing full-time jobs in addition to their emergency service work and family commitments, adding to the potential stress in their lives. The risks to their safety and the time spent away from home also puts a strain on family relationships.
To help firefighters, EMS providers, rescue workers, and their families get the assistance they need to address these issues, the National Volunteer Fire Council (NVFC), in partnership with the American Psychological Association and the Firefighter Behavioral Health Alliance, launched the Psychologically Healthy Fire Departments initiative.
Through this effort, the NVFC maintains the Directory of Behavioral Health Professionals as a resource for emergency responders and their families who need help. The providers listed in the directory are ready and equipped to help first responders either by taking a special online training course or because they have firsthand experience with the emergency services.
You can be part of this solution for emergency responders and their families in need. Follow these steps to be added the directory to help our local heroes:
Fill out this form.
You will be contacted by the Firefighter Behavioral Health Alliance to confirm your eligibility to participate.
You will need to take the online course, A Firefighter's Life, to learn about the special mental and behavioral health considerations facing emergency responders. The training takes approximately two and a half hours.* (Note: You may be eligible to be exempt from this training if you have firsthand experience with the emergency services.)

The Directory of Behavioral Health Professionals is updated monthly. Access the directory and view a map of current behavioral health professionals included here. Learn more about the NVFC's initiatives to address emergency responder behavioral health through our Share the Load program here.
We encourage you to fill out the form to get started today. If you have questions, contact Caroline Stachowiak at caroline@nvfc.org.