Psychologically Healthy Fire Departments
The Psychologically Healthy Fire Departments (PHFD) initiative provides tools and resources to support responder health and wellbeing. Scroll this page or use the following navigation links to learn more and access resources.
Directory of Behavioral Health Professionals
Emergency responders face unique challenges that can have a significant impact on behavioral health, and it is important that they have access to providers that understand this. The providers listed in this directory are behavioral health professionals vetted by the Firefighter Behavioral Health Alliance (FBHA) that either have firsthand experience with the fire and emergency services or have completed a training course through the FBHA to educate them on the fire service and the specific challenges they face. In addition to licensed healthcare professionals, there are other resources for assistance such as chaplains and peer support specialists. The directory is updated once a month.
Behavioral health specialists who would like to be added to this directory can fill out this form, or learn more here.  Please note, if you do not have firsthand experience with the fire and emergency services, you will need to complete the training course through the Firefighter Behavioral Health Alliance. Details will be provided once you complete the form.
If you have feedback you would like to provide on the directory, use this form.
Below is a map of locations of the behavioral health professionals currently included in the directory. You can click in the map to move it around, use the zoom in/zoom out buttons, and click on the pins for the name and location of the provider. Full profiles and contact information is available in the directory.
Psychologically Healthy Fire Departments: Implementation Toolkit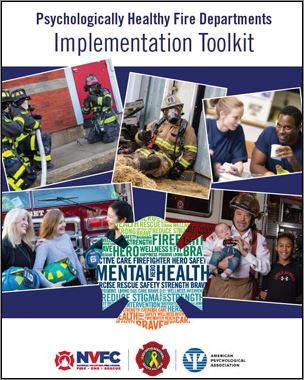 The Psychologically Healthy Fire Departments: Implementation Toolkit is designed to help fire department leaders promote and foster well-being among their members. Having a healthy and engaged workforce creates successful, high-performing departments. The toolkit covers the six key categories of member involvement, health and safety, member growth and development, work-life balance, member recognition, and effective communication. Each category is examined along with specific actions that can be taken, special issues to consider, case studies from successful departments, and additional resources. The toolkit was developed in collaboration with psychologists, including members and staff of the American Psychological Association.
Training has been developed to supplement the Psychologically Healthy Fire Departments: Implementation Toolkit and help leaders create a psychologically healthy fire department. A course is available in the NVFC Virtual Classroom and is currently being offered for free to everyone.
You can also request the Creating a Psychologically Healthy Fire Department training course in-person for your next event. Access the application form here. Please note that the training request will be reviewed by NVFC staff and members of the NVFC Board of Directors. You must anticipate at least 15 students.
Psychologically Healthy Fire Department (PHFD) Commitment
Make the commitment to support your fire or EMS department's members! Take the following steps to show your commitment to creating or maintaining a psychologically healthy fire or EMS department:
Upon completion of the training and the commitment form, your organization's name and logo will be added to our online list of departments that are committed to establishing a healthy volunteer workforce. You will also receive a PHFD sticker and virtual logo to showcase your commitment to your members and community.
We recognize and appreciate these departments for making the commitment to their members.
The National Volunteer Fire Council launched the Psychologically Healthy Fire Departments initiative to support firefighters and EMS providers and create healthy, successful departments. It is made possible thanks to a Fire Prevention and Safety Grant from the Federal Emergency Management Agency.
If you have questions about this initiative or any of its components, contact program manager Caroline Stachowiak at caroline@nvfc.org.