NVFC Mourns Passing of Board Member Ron Roy
August 8, 2023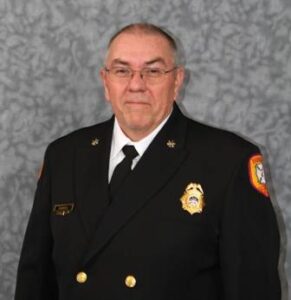 The National Volunteer Fire Council (NVFC) is saddened by the passing of longtime board member and fire service advocate Ron Roy on July 31. He served as a director from Washington on the NVFC board since 2004 and was a champion for volunteers on the local, state, and national levels.
Joining his local department in 1973, Roy was passionate about the volunteer fire service and was proud to represent the volunteer in every way he could. He served with the Chelan County Fire District #1 in Wenatchee for 19 years before moving to the Douglas County Fire District #2, where he most recently served as a division chief and the District's volunteer coordinator. He joined the Washington State Fire Fighters' Association board in 2001 and served as president for three years, legislative team, and conference coordinator. He was also a recruit instructor, including Burn to Learn and Search and Rescue at the Washington Fire Training Academy.
As chair of the NVFC's Wildland Committee, Roy conceptualized and helped develop the Wildland Fire Assessment Program and served as its lead instructor for the last decade. He also worked hard on interagency cooperation, participating in meetings, committees, workgroups, and more to support wildland firefighting volunteer fire departments and ensure they had a voice and were represented. He was always one of the first to respond on national initiatives affecting the volunteer fire service in the wildland arena no matter the topic – legislative, funding, mitigation, or health and safety. Even when battling health struggles, he was instrumental in helping plan the NVFC's inaugural Regional Wildland Symposium, which took place in March 2023. He was also an active member of the NVFC's Bylaws Committee.
Roy never wavered from making the fire service the best it could be and took great pleasure in helping his community and bringing smiles to people's faces. His guiding motto was: Voluntarius Fastu, Honoris, et Humilitate – Volunteer with Pride, Honor, and Humility.
"Ron was a true inspiration to all of us with his passion, dedication, and the pure joy he took in the fire service and in life," said NVFC chair Steve Hirsch. "He advanced the NVFC's initiatives, especially on the wildland front, and was always ready to provide knowledge, support, and assistance in whatever staff, other board members, or our boots-on-the-ground volunteers needed. His light shown bright among all who knew him, and he leaves behind a powerful legacy. He will be greatly missed."
In addition to his work in the fire service, Roy retired in 2019 as senior electrical system operator with the Chelan County Public Utility District in Wenatchee. He leaves behind many family members including his beloved wife, Martie, children, and grandchildren.
Donations in his name may be made to the Firefighter Cancer Support Network (FCSN) here, or checks may be mailed to Firefighter Cancer Support Network, 2600 West Olive Ave., 5th Floor-PMB 608, Burbank, CA 91505.
A memorial service will be held at the Wenatchee Convention Center, 121 North Wenatchee Ave., Wenatchee, WA 98801 on October 14, 2023 at 12:00 noon. A procession from the fire station located at 731 North Wenatchee Ave., will precede the service.