NVFC Members Samuel Fowler, Sophia Liu Awarded Columbia Southern University Scholarships
October 18, 2022
Two members of the National Volunteer Fire Council (NVFC) have been selected to receive a scholarship to Columbia Southern University (CSU): Samuel Fowler of Lopez Island, WA, and Sophia Liu of Berwyn Heights, MD. Each scholarship will cover up to 60 credit hours towards one of CSU's online degree programs.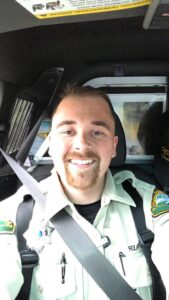 Fowler began volunteering in the fire service at age 16 and considers his involvement in the profession to be the reason he has found success in life. He works full time as a deputy sheriff at the San Juan County (WA) Sheriff's Office and volunteers at two local fire departments.
"I was lucky enough to have many role models and extraordinary instructors/mentors early on in my experience in the field," said Fowler. "This was the driving force that molded me into the individual I am today."
He plans to use the scholarship to increase his knowledge of current fire training and education best practices so he can provide up-to-date training for his local departments. Additionally, Fowler aspires to teach as an adjunct instructor at a regional community college.
"I love every aspect of firefighting," added Fowler. "[I] have found instructing to be the most rewarding way to be involved in the profession."
Fellow NVFC member Liu also does her fair share of training, among other responsibilities, as lieutenant at Branchville (MD) Volunteer Fire Company. She was also recently appointed to the Training Committee of the Prince George's County Volunteer Fire & Rescue Association.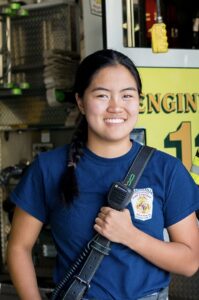 "As a senior firefighter and now a fire officer, I have been directly responsible for the design and implementation of two certification programs within our firehouse: the layout and interior firefighter turnover processes," said Liu. "This role involves constantly keeping up with county policies, re-evaluating program effectiveness, scheduling trainers and trainees, and creating and submitting budgets."
With the scholarship, Liu hopes to pursue her master's in business administration (MBA) with a concentration in project management.
"[The CSU project management] program's courses on economics, human resources, and project management have direct applications to the budgeting, recruitment, staffing, and training challenges prevalent in a volunteer system," explained Liu. "With a degree in project management, I am confident I can make a real impact in [my department's] ability to continue serving the community with compassion, determination, and nothing but the highest quality of care."
This is the fourteenth year CSU has awarded scholarships to NVFC members. For more information on the NVFC scholarship, visit ColumbiaSouthern.edu/NVFC. In addition to eligibility to apply for the scholarship, NVFC members receive a waved application fee and 10 percent tuition discount.
About Columbia Southern University
As an innovator in online education, CSU was established in 1993 to provide an alternative to the traditional university experience for today's adult learner. CSU offers online associate, bachelor's, master's, and doctoral degree programs such as business administration, criminal justice, fire administration, and occupational safety and health. Visit ColumbiaSouthern.edu or call (877) 347-6050 to learn more.
About the NVFC
The National Volunteer Fire Council (NVFC) is the leading nonprofit membership association representing the interests of the volunteer fire, EMS, and rescue services. The NVFC serves as the voice of the volunteer in the national arena and provides critical resources, programs, education, and advocacy for first responders across the nation. Learn more at www.nvfc.org.