NVFC Hosts Film Screening and Panel Discussion on Capitol Hill
November 21, 2023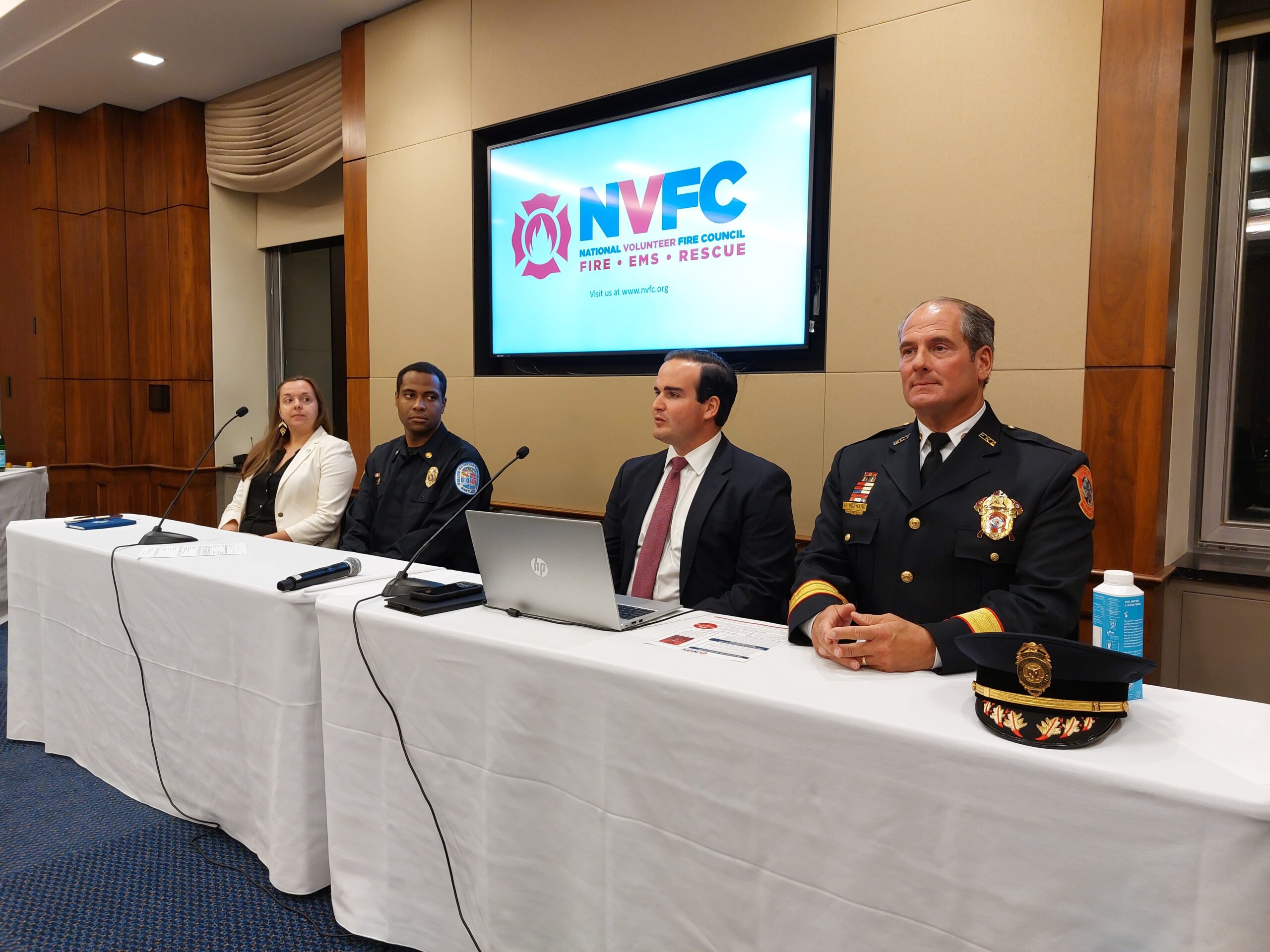 On November 9 the National Volunteer Fire Council (NVFC) hosted a screening of a 20-minute segment from the documentary Odd Hours, No Pay, Cool Hat for Congressional staff in the Rayburn House Office Building on Capitol Hill. The screening was followed by a panel discussion about the volunteer fire service and the need to reauthorize the Assistance to Firefighters Grants (AFG) program, Staffing for Adequate Fire and Emergency Response (SAFER) grants program, and the U.S. Fire Administration (USFA).
Odd Hours, No Pay, Cool Hat, presented by John Deere in association with the NVFC, Hold Fast Features, and Vignette, aims to expand the visibility of volunteer firefighting and increase recruitment across the country. The NVFC held the Capitol Hill screening, thanks to support from John Deere, to show Congressional staff the depth and the diversity of the volunteer fire service and the critical role volunteer fire departments play in protecting communities across the United States.
The panel discussion that followed the screening consisted of the NVFC's chief of legislative and regulatory affairs, Ryan Woodard; the NVFC's Maryland director, Eric Bernard; Wheaton (MD) volunteer firefighter and documentary cast member, Zachary Fergusson-Williams; and director of government affairs at the Congressional Fire Services Institute, Michaela Campbell. The panelists discussed the documentary and the role of volunteer fire, rescue, and EMS personnel in protecting communities across the U.S. They also stressed the need for Congress to reauthorize AFG, SAFER, and USFA by the end of the year since the authorization for these programs lapsed on September 30 and absent Congressional action AFG/SAFER are scheduled to shutdown on September 30, 2024. Watch a portion of the panel discussion here.
The reauthorization of AFG, SAFER, and USFA is the NVFC's top legislative priority. The Senate's reauthorization bill (S. 870) passed 95-2 in April and the House's reauthorization bill (H.R. 4090) unanimously passed the House Committee on Science, Space, and Technology in June. Unfortunately, further movement on reauthorization legislation has stalled. Use the NVFC's Legislative Action Center to contact your Member of Congress and Senators and ask them to pass these critical reauthorizations by the end of the year.
Odd Hours, No Pay, Cool Hat is available for purchase on Amazon Prime, iTunes, and Google Play. It is also available for free to fire departments who'd like to host a screening to recruit new members and increase community support. Learn more about the film and how to host a screening at www.oddhoursfilm.com.