NVFC Holds Recruitment & Retention Experience in Mesa, AZ
September 20, 2022
The National Volunteer Fire Council held its second Recruitment & Retention Experience on September 16-17 in Mesa, AZ. This signature conference featured sessions, panel discussions, keynote speakers, and networking opportunities focused on issues relating to volunteer fire and emergency service staffing.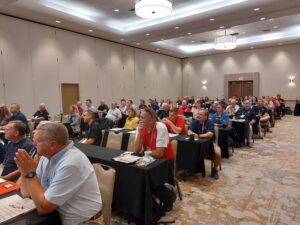 One hundred first responders from 29 states gathered for two days of training, education, and idea-sharing. Thirty-five of the attendees received a travel stipend from the NVFC to help offset the costs of attending. These stipends covered up to $750 for expenses including airfare/mileage, hotel, and registration fee. An additional two attendees received the Heather Schafer Memorial Scholarship, sponsored by ADT, to cover up to $1,500 in conference related expenses.
The packed agenda addressed a range of topics to provide best practices and solutions that responders can consider to kickstart, enhance, or expand their department's recruitment and retention initiatives. The agenda included the following speakers and presentations:
Chris Barron – Emergency Services Through the Eyes of Others


Leonard Rivera (above) and Tiger Schmittendorf (below) were among the course instructors.

Colby Cagle – Ten Cheat Codes to Firefighter Recruitment
Jonathan Dayton – Open Minds, Fostering Change, Better Fire Service
Jason Decremer, PhD – Recruiting for the Long Term: Public Service Motivation and Why It's Necessary
Rick Gurba – NextGen Leadership
David Lewis – Kickstart Your R&R Program with SAFER Funding (keynote presentation)
Kymberly Pashkowsky – Redefining Today's Fire Service with Mentoring and Coaching
Jerry Presta – Junior Firefighters, a Bridge to a Successful Fire Service
Leonard Rivera – Bridging the Gap: Recruiting the "Modern" Volunteer Using Innovative Media and Social Media Strategies
Tiger Schmittendorf – Are You Ready for Your Next Recruit
Kimberly Sylvia, Jeffrey Gruenglas, and Jacob Riker – Building and Sustaining Ethical Culture in Combination Departments
Panel discussion on Increasing Volunteer Firefighter/EMS R&R by Leveraging Community Resources moderated by Dr. Candice McDonald and featuring Eric Bernard, Ken Brown, Spencer Cheatham, Jonathan Dayton, David Lewis, and Chief Richard Patrick
Film screening of Teacher of Patience followed by a panel discussion on interacting with community members with disabilities featuring filmmaker Carmen Vincent and subject matter experts Tom Felter, Brian Focht, and Neil Lichter
​
In addition to the educational sessions, there were opportunities for networking and sharing of ideas among the attendees. This included a networking reception and mini expo sponsored by DripDrop ORS and Lincoln Financial Group.
The Recruitment & Retention Experience was made possible due to a federal Staffing for Adequate Fire and Emergency Response grant from FEMA. The NVFC thanks all who attended and all who instructed for a successful event. The NVFC will host another educational conference, the health and safety focused Training Summit, in Oklahoma City, OK, on June 23-24. Pre-registration is now open at www.nvfc.org/summit. In addition, on-demand courses and webinars are available in the NVFC Virtual Classroom.