NVFC Announces Recipients of the 2023 Fire Service Achievement Awards
March 21, 2023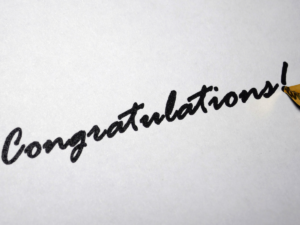 The National Volunteer Fire Council (NVFC) is pleased to announce the winners of its annual fire service achievement awards. These awards recognize those who have gone above and beyond in service to their department and community.
The 2023 recipients are: LeRoy Koopman, Lifetime Achievement Award, sponsored by Lincoln Financial Group; Chief Mahlon Irish Jr., Chief James P. Seavey Sr. Health & Wellness Leadership Award, co-sponsored by VFIS and Ward Diesel Filter Systems; Kyra Kozey, Junior Firefighter of the Year Award, sponsored by California Casualty; and East Norwich Junior Program, Junior Firefighter Program of the Year Award, sponsored by California Casualty.
"We are proud to join with our award sponsors to recognize these outstanding members of the fire and emergency services," said NVFC chair Steve Hirsch. "Our 2023 honorees showcase the amazing way volunteers give back to their communities every day and the bright future ahead of us."
Koopman, Irish, and Kozey will be honored at an awards ceremony taking place during the NVFC spring meeting on May 21 in Arlington, VA. The East Norwich Junior Program will be presented their award during a local ceremony to ensure all of their members can attend.
Learn more about the 2023 NVFC award winners below.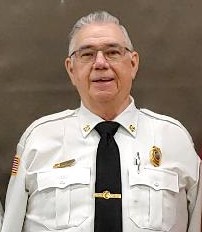 Lifetime Achievement Award: LeRoy Koopman
Award sponsored by Lincoln Financial Group
Chief LeRoy Koopman has exemplified the definition of a career volunteer firefighter. He joined the fire service in 1963 as a volunteer in his hometown of Colton, SD. Like so many firefighters, he is a multi-generation family fire service volunteer. Besides his own volunteer service, a grandparent, parent, sons, grandsons, and nephews have been or currently are in the fire service as volunteer and career members.
Koopman has always tried to maintain a big picture mentality. He is a longtime member of the South Dakota Fire Chief's Association, where he served as president and was elected as the Fire Chief of the Year in 1982. He was a founding member of the Minnehaha County Fire Chief's Association and has held several positions on the board of directors. This group was formed so multiple departments and communities could learn and train together, since a successful fire service organization needs dedicated, well-trained individuals. He not only wants his own department to be safe and successful, but every firefighter and department to be safe and successful. That is the reason why he and his family provide training across his home state of South Dakota to all levels of firefighters. He is a firm believer in learning from the past, adapting with the present, and preparing for the future. He advocates succession planning for continued department success, and looks to the knowledge and opinions of other leaders in the fire service and government to continue to learn and grow. Koopman's fire service accomplishments have always been for the intent of making someone or something better.
Beyond his local service, Koopman served on the South Dakota Firefighter's Association Board of Directors for over 35 years, including terms as vice president and president. During his tenure as president, he encouraged the board to maintain a contingency fund for the state fire school, which turned out to be critical a few years later when the fire school was able to be held despite a year of budget cuts and reserve funding by the state. Koopman also served for 18 years on the NVFC Board of Directors and is in his 60th year of service to the Colton Volunteer Fire Department. Supporting Koopman in his fire service journey are his wife Marie, three sons (Michael, Mark, and Monte), one daughter (Mary), 10 grandchildren, and one great-grandson.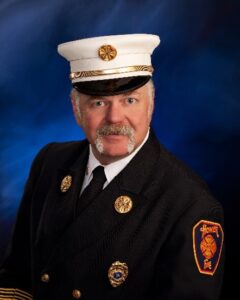 Chief James P. Seavey Sr. Health & Wellness Leadership Award: Chief Mahlon Irish Jr.
Award co-sponsored by VFIS and Ward Diesel Filter Systems
In 2014, Chief Mahlon Irish Jr. was diagnosed with stage 4 prostate cancer. With no family history of prostate cancer, doctors linked the cancer to his time in the fire service. Irish is a 48-year member of the Homer (NY) Fire Department and a retired lieutenant with the City of Ithaca Fire Department. In addition to his many years as both a volunteer and career firefighter, he has served as a New York State fire instructor for 38 years.
Since his diagnosis, Irish has made it his mission to educate firefighters across New York State and beyond on how they can better protect themselves from certain types of cancers. He has delivered presentations to 202 fire departments, reaching 2,886 fire service personnel over 11,734 miles, largely at his own expense. He delivers his lecture at the New York State Fire Academy to every recruit class. As part of his lecture, he shows up-to-date statistics regarding cancer in firefighters and provides simple steps for decreasing risks. He also delves into his personal experiences and the physical, mental, and financial challenges cancer has caused him.
Irish has made significant changes to his lifestyle since his diagnosis, including eating better and doing CrossFit. In his home fire department, he assembled gross decontamination buckets for all their front-line apparatus and convinced the Village of Homer to pay for significant upgrades to their 1940s era fire station with the goal of carcinogen contamination protection measures. He converted an unused apparatus bay into a clean gear storage room that is isolated from the rest of the building and had a vehicle exhaust extraction system installed to further reduce carcinogenic contamination. In addition, he is a founding board member of "Believe 31," a not-for-profit organization that provides support to firefighters diagnosed with cancer in Onondaga, Cortland, Madison, and Oswego Counties located in Central New York.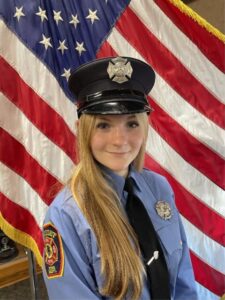 Junior Firefighter of the Year: Kyra Kozey
Award sponsored by California Casualty
Kyra Kozey has served as a member of the Syosset (NY) Fire Department Juniors for almost four years and exemplifies youth community involvement. Since joining, Kozey has taken a keen interest in training and is dedicated to improving her skills. Her talent and openness has also made her the go-to person among her peers when they need help in training or skill-building.
Kozey goes out of her way to make sure every junior feels welcomed and safe at program meetings. She was quickly recognized as a leader by her peers and within a year was elected to the program's board of officers. In this role Kozey was responsible for planning events, holding trainings, and managing the program's budget, which she also increased during her time in office. In addition, she was instrumental in helping to start a junior ride along program. This program allows juniors to be sponsored to go to EMT school, and upon completion, they can ride department ambulances and shadow members on EMS calls. This program is flourishing, with four juniors getting their EMT certification in the past year. Kozey will be the 5th member of the program in March when she graduates EMT school and becomes one of the youngest EMTs in New York.
Kozey's efforts have gone beyond the junior program. She has played a pivotal role in the fire department's recruitment efforts. She has a passion for spreading the message of the volunteer fire service, and anyone who talks with her can see it. On any given day, she can be found staffing the fire department booth at the town carnival, staffing the fire prevention booth at the headquarters, or even wearing her fire department shirts around town and answering questions from those she encounters. Kozey has also been involved on the county level, serving as 1st vice president and now president of the county juniors association, leading the first all-female board of officers in association's history.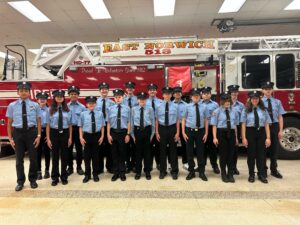 Junior Firefighter Program of the Year Award: East Norwich Junior Program
Award sponsored by California Casualty
The East Norwich (NY) Junior Program formed in 1994 to help with the recruitment of firefighters into the East Norwich Fire Company #1. It soon evolved into a structured youth program, teaching valuable firefighting and safety skills to young leaders on their way to becoming future firefighters, officers, and chiefs. The youth go through an extensive amount of training and have demonstrated that the more training they are given, the more they want. Training is designed to provide them a taste of everything, including hose lines, aerial and ground ladders, forcible entry, bail out, and more.
The juniors have attended multiple Firefighters Association of the State of New York (FASNY) Youth Days in Albany and Long Island, and in 2010 and 2012, two of their juniors traveled to Concord, NH, to attend an all-girls firefighting camp. In addition, four East Norwich juniors have been elected to the board of the Nassau County Junior Firefighters Association, with one serving as president. Each October, the juniors attend a training day at the state fire academy. In 2015, a weeklong fire camp was formed, and every year since two East Norwich juniors attend and receive the most realistic training for juniors in the country.
These youth are just as involved in their community. They ran a Safe Kid's Day, inviting the community to the firehouse to learn about car seat safety, bicycle helmet safety, and smoke detectors. They partnered with the Nassau DA's office to set up child ID fingerprint events at local schools. Since 2004, they have run their own blood drive in the firehouse, organizing, advertising, and managing all of it and saving thousands of lives. They have participated in two Relay for Life fundraisers, as well as conducted fundraising for several sick firefighters. They also took part in an international exchange program that brought 13 junior firefighters and advisors from Germany to the U.S. to participate in training and a fire camp.
The East Norwich Junior Program is more than a recruitment tool, teaching life skills and leadership. When the youth enter the department at the appropriate age, they are ready and fully trained. The program has produced the current chief and 2nd assistant chief, as well as officers, many firefighters, and medics.
About the Award Sponsors

Founded in 1914, California Casualty provides auto and home insurance to firefighters, peace officers, educators, and nurses in 44 states. The company routinely maintains a 99 percent customer service rating and a 96 percent claims rating.
Lincoln Financial Group

provides advice and solutions that help empower people to take charge of their financial lives with confidence and optimism. Today, more than 17 million customers trust their retirement, insurance, and wealth protection expertise to help address their lifestyle, savings, and income goals, as well as to guard against long-term care expenses. The National LOSAP HEROPLUS℠ Program was designed to help individual fire and emergency services departments recruit, retain, and reward dedicated volunteers with a program that will help boost their retirement readiness.
VFIS is the largest provider of insurance, education, and consulting services to emergency service organizations such as fire departments, ambulance and rescue squads, and 911 centers. They have a long history of helping the emergency service community protect their assets and manage their exposure to loss. They pioneered the first tailored insurance package and formed a program for emergency service organizations. VFIS drafted the first specialized insurance policy in 1969 and continues to be the leader in the industry, insuring more emergency service organizations than any other provider.
Automatic and vehicle-mounted, Ward Diesel NO SMOKE Systems offer diesel exhaust protection on scene, in the station – anywhere you need it. Building modifications are not required for installation and there are no mechanical pieces to be attached by the firefighter when exiting and returning to the station. NO SMOKE is the only diesel exhaust removal solution on the market today that provides complete protection against harmful diesel exhaust both inside and outside the fire station.