Legislation Introduced to Fund Fire Station Construction and Expand PSOB Benefits
April 4, 2023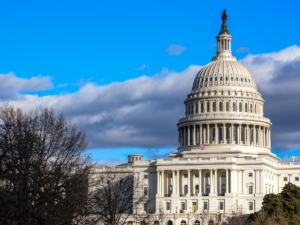 Two bills were recently introduced in Congress to assist first responders. The FIRE STATION Act (H.R. 1814/ S. 977) would help fund construction and updates of fire stations and the Honoring Our Fallen Heroes Act (H.R. 1719/ S. 930), would expand Public Safety Officers' Benefits (PSOB) to include occupationally-caused cancer. The National Volunteer Fire Council (NVFC) supports the passage of these bills.
The FIRE STATION Act, which is similar to a bill that was a legislative priority for the NVFC in the last Congress, will create a $750 million grant program within the Federal Emergency Management Agency (FEMA) to modify, upgrade, and construct fire and EMS department facilities. Specifically, funding in this bill may be used for: building, rebuilding, or renovating fire and EMS department facilities; upgrading existing facilities to install exhaust emission control systems; installing backup power systems; upgrading or replacing environmental control systems, such as HVAC systems; removing or remediating mold; constructing or modifying living quarters for use by personnel; and upgrading fire and EMS stations or building new stations to meet modern building codes and standards.
"I'd like to thank Senator Van Hollen and Congressman Pascrell for reintroducing this important legislation," said NVFC chair Steve Hirsch. "Thousands of fire stations across the country are outdated and don't meet current voluntary consensus standards for health and safety. This problem is particularly acute in smaller, rural communities, which often lack the tax base to properly invest in modern facilities for fire and EMS. The FIRE STATION Act will provide much-needed funds to help fire and EMS departments invest in necessary facilities upgrades."
The Honoring Our Fallen Heroes Act would expand access to Public Safety Officers' Benefits (PSOB) for the families of first responders, including firefighters, who pass away from cancer caused by carcinogenic exposure during their service. This bill would also extend disability benefits in cases where first responders become permanently and totally disabled due to cancer. Currently, first responders are only POSB eligible for physical injuries sustained in the line-of-duty, or for deaths from duty-related heart attacks, strokes, suicides, mental health conditions such as post-traumatic stress disorder, and 9/11 related illnesses.
"Too often battles with occupational related cancer leave first responders permanently disabled or leave their survivors financially struggling after their passing," said Hirsch. "I applaud Senator Klobuchar and Senator Cramer for introducing the Honoring Our Fallen Heroes Act of 2023. This important legislation will provide much needed support to first responders and their families as they face the aftermath of occupational cancer by providing a presumption for certain exposure-related cancers under PSOB."
The NVFC looks forward to working with Congress towards the passage of these two important pieces of legislation.