Jonathan Blankenship — Houston, MS
Name: Jonathan Blankenship
Title: Fire Chief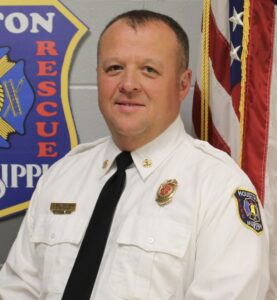 Department: Houston Fire Rescue
Location: Houston, MS
Why are you an NVFC member?
I believe the NVFC provides one strong voice for the volunteer fire service. The NVFC also provides several very useful resources.
What is your occupation?
Fire chief
Why are you a fire service volunteer?
I began my career as a volunteer firefighter, and I do not want to forget where I came from.
What year did you join the fire or emergency services?
1993
What are your memorable moments as a firefighter or EMS provider?
Being told that I had been accepted as a member of the volunteer fire department. It was a dream come true.
What contributions have you (and your department) made in your community?
We try to stay involved in our community. We participate in anything that we can to stay involved and hopefully help promote our fire department.
Interested in serving your community? Find volunteer fire service opportunities at www.MakeMeAFirefighter.org.