Intelagard, National Foam, and the NVFC Partner to Give Away Nine Macaw® CAFS Backpacks
April 1, 2021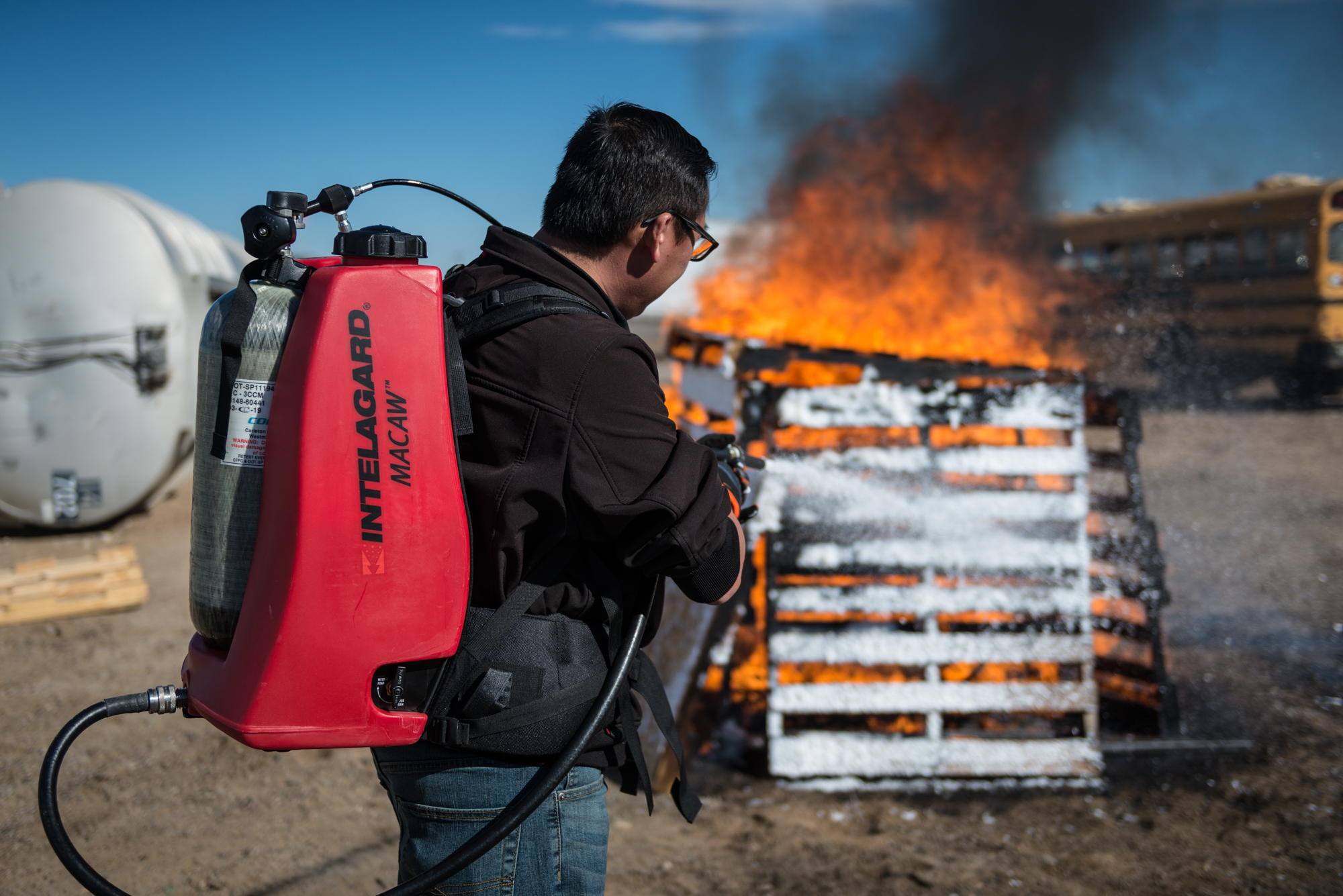 Intelagard, National Foam, and the National Volunteer Fire Council (NVFC) have teamed up to support the volunteer fire service. Through a special giveaway program, nine volunteer fire departments will be awarded a Macaw® compressed air foam system (CAFS) backpack, nozzle kit, five gallons of Knockdown® firefighting foam, and four gallons of EasyDECON® DF200 to assist them in protecting their responders and their community. Each package is valued at $6,500.
"Communities across the country depend on volunteer firefighters to be their first line of defense for a wide variety of emergencies, including fires, natural disasters, vehicle crashes, hazardous materials incidents, and more," said NVFC chair Steve Hirsch. "We appreciate Intelagard and National Foam for their commitment to help these volunteers by providing their most up-to-date, innovative equipment so they can do their jobs safely and efficiently."
"We are fortunate to have served the fire community for the past 30 years," said Intelagard president Dennis Smagac. "During this anniversary year, we are delighted to be able to give back to the volunteer departments whose staff sacrifice their time and risk their lives to protect us. You are all heroes."
The Intelagard Macaw® backpack provides versatile power in a totally independent CAF backpack. More powerful than standard extinguishers, the multipurpose Macaw® can be used for fire suppression, exposure protection, mop-up, hazardous materials cleanup, and decontamination. The Knockdown® foam is a unique environmentally responsible Class A foam concentrate that provides unmatched firefighting performance and flexibility. Knockdown® is specially designed for use in Class A/B foam systems and is excellent for CAFS.
To be eligible to apply, departments must be at least 50 percent volunteer, serve a population of 25,000 or less, have an annual revenue of no more than $250,000, be located in the U.S. and legally organized under state law, and demonstrate a need for the product. The applicant or department chief must be a member of the NVFC; learn about member benefits and join at www.nvfc.org/join.
The application period is open through April 30. Learn more and apply at www.nvfc.org/macaw-givaway.
About Intelagard
Intelagard provides a full range of innovative compressed air foam systems (CAFS) ranging in size from man-portable to truck-mounted units. The Intelagard CAFS enhance the fire extinguishing properties of water and stretches firefighting power. When used with firefighting foam, the patented CAFS create a superior bubble structure that blocks oxygen to the fuel, suppresses the vapors, and provides a cooling effect. After a 9-year process the US Military chose the Macaw® Backpack as the "new standard of portable fire suppression equipment." Intelagard systems are also used for hazardous material clean up, crowd control, and chemical and biological decontamination. Learn more at https://intelagard.com/.
About the NVFC
The National Volunteer Fire Council (NVFC) is the leading nonprofit membership association representing the interests of the volunteer fire, EMS, and rescue services. The NVFC serves as the voice of the volunteer in the national arena and provides critical resources, programs, education, and advocacy for first responders across the nation. Learn more at www.nvfc.org.