Intelagard Macaw CAFS Backpack Giveaway

Intelagard, National Foam, and the National Volunteer Fire Council (NVFC) have teamed up to support the volunteer fire service. Nine volunteer fire departments will be awarded a Macaw® compressed air foam system (CAFS) backpack, nozzle kit, five gallons of Knockdown® firefighting foam, and four gallons of EasyDECON® DF200. Each package is worth $6,500.
About the Donation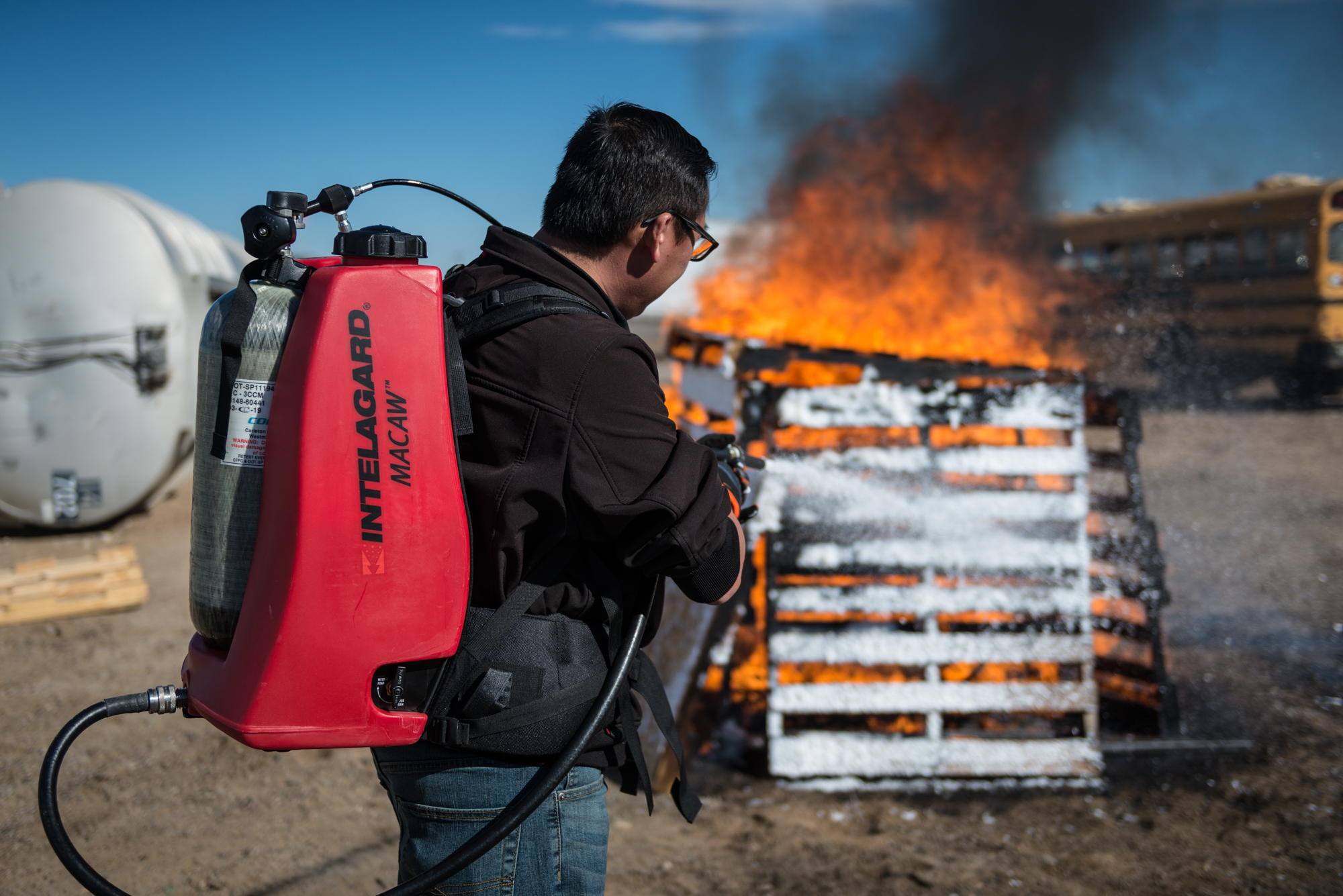 Foam is quickly becoming the tool of choice for first responders around the world. Recognized for its many advantages over water, foam is also proven to be more effective than liquid in areas such as hazmat cleanup and decontamination. Click here for a list of CAFS and foam benefits and watch this video tutorial.
The Intelagard Macaw® Backpack provides versatile power in a totally independent CAF backpack. More powerful than standard extinguishers, the multipurpose Macaw® can be used for fire suppression, exposure protection, mop-up, hazardous materials cleanup, and decontamination.
The Knockdown® foam is a unique environmentally responsible Class A foam concentrate that provides unmatched firefighting performance and flexibility. Knockdown® is specially designed for use in Class A/B foam systems and is excellent for CAFS.
Criteria
To be eligible to apply, departments must meet the following criteria:
Be over 50% volunteer.
Serve a population of 25,000 or less.
Annual revenue must not exceed $250,000 for the most recently completed budget year.
Be located in the U.S. and legally organized under state law.
Individual applying on behalf of the department or department chief must be a member of the NVFC. Learn about member benefits and join at www.nvfc.org/join.
Demonstrate a need for the product and how the backpack will be utilized.
Only one application will be accepted per department.
Recipients must use the donated product for the benefit of their department and not for any other purpose; cannot be resold.
Recipients agree that their department name, details from application essay, and photo may be used in media by Intelagard, National Foam, and the NVFC for the purposes of promoting the donation program.
Application
The application period is now closed.
Selection
An expert panel selected by the NVFC and Intelagard will review the applications. Nine winning departments will be selected to each receive one Macaw® CAF Backpack, nozzle kit, five gallons of Knockdown® firefighting foam, and four gallons of EasyDECON® DF200. Three winners will be announced each month in June, July, and August. Winners will be contacted directly before the public announcement is made.
Questions
If you have any questions, contact NVFC communications coordinator Matthew Odom at matthew@nvfc.org or 1-888-ASK-NVFC (275-6832).
Partners
About Intelagard
Intelagard provides a full range of innovative compressed air foam systems (CAFS) ranging in size from man-portable to truck-mounted units. The Intelagard CAFS enhance the fire extinguishing properties of water and stretches firefighting power. When used with firefighting foam, the patented CAFS create a superior bubble structure that blocks oxygen to the fuel, suppresses the vapors, and provides a cooling effect. After a 9-year process the US Military chose the Macaw® Backpack as the "new standard of portable fire suppression equipment." Intelagard systems are also used for hazardous material clean up, crowd control, and chemical and biological decontamination. Learn more at https://intelagard.com/.
About the NVFC
The National Volunteer Fire Council (NVFC) is the leading nonprofit membership association representing the interests of the volunteer fire, EMS, and rescue services. The NVFC serves as the voice of the volunteer in the national arena and provides critical resources, programs, education, and advocacy for first responders across the nation. Learn more at www.nvfc.org.