Heather Schafer Memorial Scholarship Recipients Attend NVFC Training Conferences
October 18, 2022
Scholarships sponsored by ADT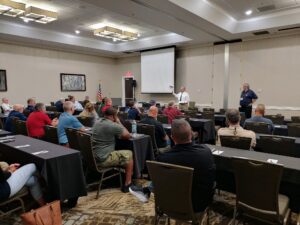 Four outstanding first responders received scholarships in 2022 through the National Volunteer Fire Council's (NVFC) inaugural Heather Schafer Memorial Scholarship, sponsored by ADT. Created in honor of the NVFC's longtime CEO, the scholarship is designed to make in-person training and networking accessible for volunteer emergency responders by providing funds to attend an NVFC conference. Recipients this year were Blake Duncan (LA), Zachary Hottel (VA), Mitchell K. Morgan (NC), and Joyce Shry (MD).
Heather Schafer, who passed away in 2021, was a champion for education, training, and leadership development opportunities for volunteer responders. The scholarship recognizes exemplary emerging leaders in public safety who are committed to improving the fire and emergency services in the areas of health, safety, recruitment, retention, department culture, and emergency response. Each scholarship covered up to $1,500 in conference related expenses, including the cost of the registration fee, airfare or mileage, meals, and lodging.
Thanks to support from ADT, the NVFC was able to award four scholarships in 2022 – two for the NVFC Health and Safety Training Summit, which took place June 24-25 in Orlando, FL, and two for the NVFC Recruitment and Retention Experience, held September 16-17 in Mesa, AZ.
The recipients of the inaugural Heather Schafer Memorial Scholarship are as follows: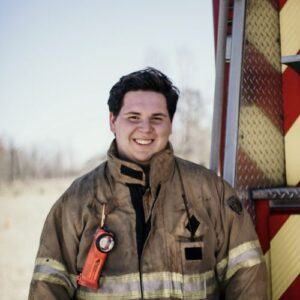 Blake Duncan
Health & Safety Training Summit
Blake Duncan has been a volunteer firefighter for the Washington Parish Fire Protection District 5 in Bogalusa, LA, for three years. As his department's health and rehab coordinator, he specializes in the health and safety of department members on the fireground. He plans to obtain Firefighter I and hazmat awareness/hazmat ops training.
Mitchel K. Morgan
Health & Safety Training Summit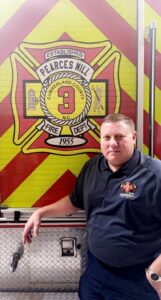 Mitchell Morgan is a firefighter and EMS officer with the Pearces Mill Volunteer Fire Department in North Carolina. He has over three decades of volunteer experience, serving departments throughout the state. Mitchell has also served his community and nation as a sheriff's office auxiliary officer, company police officer, and member of the U.S. Navy Reserve. His fire service certifications include Fire Officer III, Firefighter/EMT, Fire Service Instructor, HazMat Specialist, and Rescue Technician.
Zachary Hottel
Recruitment & Retention Experience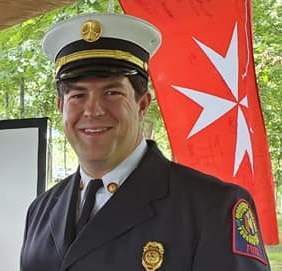 Zachary Hottel has served with the Woodstock Fire Department, a small all-volunteer department in the Shenandoah Valley of Virginia, since 2006. He currently holds the rank of captain and is in charge of the department's training activities. Hottel also manages the department's recruitment and retention activities, including social media, and is a part of the Shenandoah County Recruitment and Retention Committee and the Virginia Recruitment and Retention Network. Outside the fire service he works for the Shenandoah County Library System as their archivist and lives in Woodstock with his wife Ayla and dog Mabel.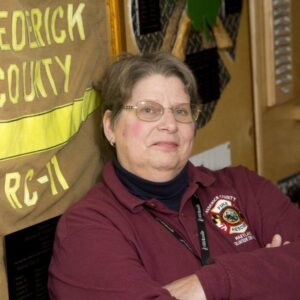 Joyce Shry
Recruitment & Retention Experience
Joyce Shry is the volunteer recruiter for Frederick County Volunteer Fire and Rescue Services in Frederick, MD. She began serving her community by volunteering as an emergency medical technician with the Carroll Manor Volunteer Fire Company in Adamstown, MD. In her current technical and administrative position for Frederick County, she coordinates volunteer personnel and functions within the Division of Volunteer Fire and Rescue Services and the Frederick County Volunteer Fire and Rescue Association. Shry develops and executes volunteer recruiting plans as the liaison with 25 independent fire and rescue corporations.
Upcoming NVFC training conferences include the Wildland Regional Symposium, taking place March 17-18, 2023, in Rapid City, SD, and the NVFC Training Summit, to be held June 23-24 in Oklahoma City, OK. Stay tuned to the NVFC web site and e-newsletter for more information.
About Heather Schafer
Heather Schafer joined the NVFC in 1993 and took on the role of CEO in 1994, a position she served for 27 years until her death in 2021. During her tenure, the NVFC grew immensely – from hundreds of members and a staff of two, to over 25,000 members and a staff of 11. Under her leadership, the NVFC prospered and flourished, offering groundbreaking programs and resources to the volunteer fire and emergency services. She led the development of the Heart-Healthy Firefighter Program, Fire Corps, Share the Load program, Make Me A Firefighter program, and more. She also formed many partnerships and collaborations that benefited the volunteer emergency services community. The Heather Schafer Memorial Scholarship continues her mission to elevate the voice of local fire and EMS personnel who have made an impact in their community.
About the NVFC
The National Volunteer Fire Council (NVFC) is the leading nonprofit membership association representing the interests of the volunteer fire, EMS, and rescue services. The NVFC serves as the voice of the volunteer in the national arena and provides critical tools, resources, education, programs, and advocacy for first responders across the nation. Find out more at www.nvfc.org.
About ADT
ADT is the most trusted brand in smart home and small business security. Through innovative products, partnerships, and the largest network of smart home security professionals in the United States, we connect and protect what matters most to our customers at home, work, and on the go. For more information, visit www.adt.com.