Get Ready for Wildfire Community Preparedness Day
March 7, 2023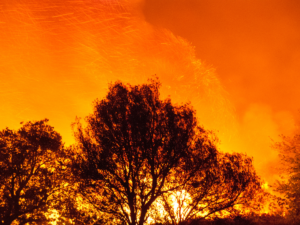 The National Fire Protection Association® (NFPA®) and State Farm® have announced that 2023 Wildfire Community Preparedness Day will be held on Saturday, May 6. The national campaign, which began in 2014, provides an opportunity for groups and individuals who live in wildfire-prone areas to come together on a single day to complete projects that can help make their homes and communities safer from wildfire. This year, the campaign is focused on what residents can do to help their home survive a wildfire.
Years of scientific research support the prescription of removing fuel sources from the area around the home – known as the "home ignition zone" – and is a key component to making a home safe from embers and radiant heat from wildfires. Simple, low-cost home improvement projects such as clearing dead leaves, debris, and pine needles from roofs and gutters, keeping lawns and native grasses mowed to a height of four inches, removing anything stored underneath decks or porches that could burn, and other similar actions are being actively supported by NFPA and State Farm on Preparedness Day and can be easily undertaken by the majority of homeowners.
"The threat of wildfire is becoming increasingly prevalent and dangerous, posting greater risks to people and property than ever before," said Lorraine Carli, NFPA vice president of Outreach and Advocacy. "In preparation for a future with more wildfire activity, homeowners need to understand their role and take action in reducing wildfire risk. We encourage people to use and share NFPA's wildfire safety resources with others in their community to not only make a difference in safety on Preparedness Day, but all through the year as well."
According to the National Interagency Fire Center, 71.8 million properties in the U.S. are at some level of risk from wildfire. This number is predicted to grow by 11 percent over the next 30 years. In the past five years wildfires have destroyed nearly 63,000 structures, the majority of which were homes. This number is poised to grow as increased wildfire activity encounters the substantial number of homes and communities located in wildfire-prone areas.
For more information about Wildfire Community Preparedness Day, project ideas, and free resources to download and share, including a Preparedness Day toolkit, visit wildfireprepday.org.