Funding Opportunity! Community Wildfire Defense Grant Application Period Now Open
August 8, 2023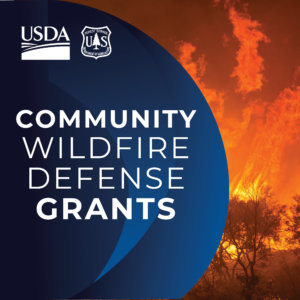 The U.S. Forest Service is now accepting applications for the second round of funding under the Community Wildfire Defense Grant (CWDG) program. Now in its second year, this competitive program is designed to assist at-risk communities, including Tribal communities, nonprofit organizations, state forestry agencies, and Alaska Native Corporations, with planning for and mitigating wildfire risks.
Applicant webinars for CWDG Round 2 have been scheduled as follows.
– August 9, 2pm-4pm ET, register
– August 10, 2pm-4pm ET (focus on Tribal applications and Q&A), register
– August 15, 2pm-4pm ET register
Applicant webinar recordings will be made available soon after the webinars for those unable to attend one of the live offerings; check back on the Forest Service CWDG web site for recordings.
Learn more about the CWDG and apply here.