First Two Recipients of MSA and DuPont's 2023 Globe Gear Giveaway Announced
July 25, 2023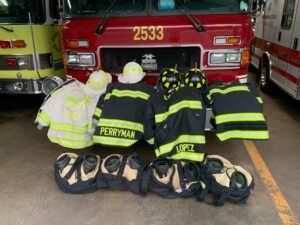 MSA Safety, DuPont Personal Protection, and the National Volunteer Fire Council (NVFC) have partnered for the 12th year to help volunteer fire departments obtain much-needed personal protective equipment. Through MSA and DuPont's Globe Gear Giveaway, 13 fire departments will be awarded four new sets of state-of-the-art turnout gear and helmets in 2023. The first 500 applicants also received a one-year NVFC membership, courtesy of MSA.
The first two recipients of the 2023 giveaway are South Boundary Fire Protection District (Naples, ID) and Springfield (CO) Volunteer Fire Department.
South Boundary Fire Protection District
South Boundary Fire Protection District serves the rural community of Naples in northern Idaho. The department, which is run almost entirely by volunteers, serves a population of 12,000 across 74 square miles. They respond to an average of 262 calls per year, with incidents ranging from wildland fires, natural disasters, and outdoor recreation accidents to aircraft crashes, train derailments, and structure/commercial fires.
With a high call volume and extensive list of incident types, some requiring the response of all members, it's critical that each member of the department has safe and appropriate personal protective equipment to respond in. However, the crew has been running on a bare minimum number of turnouts. When the inevitable repair or cleaning needs to be done, the department must choose between sending less members than needed to a call or having some use old, soiled, or unsafe gear.
Assistant Fire Chief Wayne Wilkerson explained that "having [enough gear] available for a small department in which every individual may need to respond is crucial to our ability to provide adequate response to emergency situations in our district, as well as mutual aid response to our county departments."
Springfield Volunteer Fire Department
Located in rural southeastern Colorado, Springfield Volunteer Fire Department consists of 17 members that are responsible for the 2,500-square-mile response area. The department responds to approximately 120 calls per year.
A great portion of the county is semi-desert prairie, making for extreme fire danger in the area. The department's response area also includes two major highways and critical infrastructure such as wind power farms, gas and electrical transmission lines, an airport, a railroad, and several schools.
Regional economic downturn and inflation have made it difficult to cover the organization's operating costs. This has forced the department to make drastic cuts to non-critical expenditures in order to sustain its level of service. Included in the cuts was the purchase of new personal protective equipment.
"If we were to be [selected for] MSA and DuPont's Globe Gear Giveaway, I know that all our members would feel much safer when responding to calls," said Chief Chris Westphal. "To be frank, the only way I see our department being able to afford adequate gear is through a program such as yours."
Additional awards will be made monthly throughout 2023. Stay tuned to the NVFC web site, Dispatch enewsletter, and Facebook and Twitter pages, as well as the Globe Facebook page, for additional information and announcements.
About Globe Manufacturing Company and MSA Safety
Globe Manufacturing Company, a leader in fire service protective clothing, is a subsidiary of MSA Safety Incorporated. Established in 1914, MSA Safety Incorporated is the global leader in the development, manufacture and supply of safety products and solutions that protect people and facility infrastructures. Many MSA products integrate a combination of electronics, software, mechanical systems and advanced materials to protect users against hazardous or life-threatening situations. The company's comprehensive product line is used by workers around the world in a broad range of markets, including fire service, the oil, gas and petrochemical industry, construction, industrial manufacturing applications, heating, ventilation, air conditioning and refrigeration, utilities, mining and the military.  MSA's core products include self-contained breathing apparatus, fixed gas and flame detection systems, portable gas detection instruments, industrial head protection products, firefighter helmets and protective apparel, and fall protection devices. With 2022 revenues of $1.5 billion, MSA employs approximately 5,000 people worldwide. The company is headquartered north of Pittsburgh in Cranberry Township, Pa., and has manufacturing operations in the United States, Europe, Asia and Latin America. With more than 40 international locations, MSA realizes approximately half of its revenue from outside North America. For more information visit MSA's web site at www.MSAsafety.com.
About DuPont Personal Protection
From first responders to industrial workers, DuPont provides a wide range of personal protection solutions, including some of the most trusted and innovative brands in the industry, such as Kevlar®, Nomex®, Tyvek® and Tychem® to meet your safety needs. More information can be found at personalprotection.dupont.com.
About DuPont
DuPont (NYSE: DD) is a global innovation leader with technology-based materials and solutions that help transform industries and everyday life. Our employees apply diverse science and expertise to help customers advance their best ideas and deliver essential innovations in key markets including electronics, transportation, construction, water, healthcare and worker safety. More information about the company, its businesses and solutions can be found at www.dupont.com. Investors can access information included on the Investor Relations section of the website at investors.dupont.com.
DuPont™, the DuPont Oval Logo, and all products, unless otherwise noted, denoted with ™, ℠ or ® are trademarks, service marks or registered trademarks of affiliates of DuPont de Nemours, Inc.
About the NVFC
The National Volunteer Fire Council (NVFC) is the leading nonprofit membership association representing the interests of the volunteer fire, EMS, and rescue services. The NVFC serves as the voice of the volunteer in the national arena and provides critical resources, programs, education, and advocacy for first responders across the nation. Learn more at www.nvfc.org.