First Three Recipients Announced in the Intelagard Macaw® CAFS Backpack Giveaway
June 15, 2021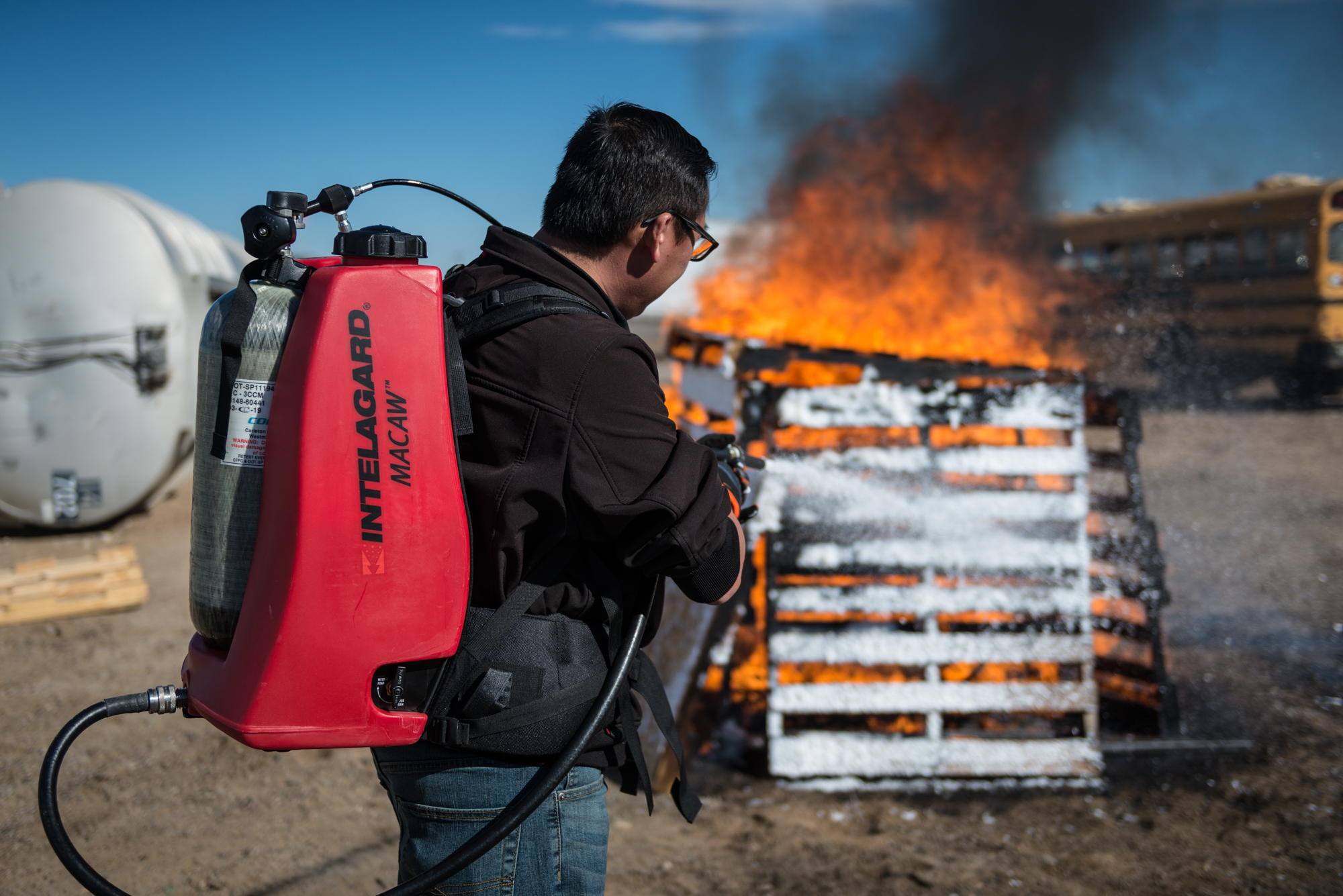 The National Volunteer Fire Council (NVFC), Intelagard, and National Foam have united to support the volunteer fire service by awarding nine NVFC members with a Macaw® Backpack compressed air foam system (CAFS) and nozzle kit, five gallons of Knockdown® firefighting foam, and four gallons of EasyDECON® DF200. Each package is worth $6,500. Winners are being announced monthly from June through August.
The Intelagard Macaw® Backpack provides versatile power in a totally independent and portable CAF system. More powerful than standard fire extinguishers, the multipurpose Macaw® can be used for fire suppression, exposure protection, mop-up, hazardous materials cleanup, and decontamination. National Foam's Knockdown® foam is a unique, environmentally responsible Class A foam concentrate that provides unmatched firefighting performance and flexibility. Knockdown® is specially designed for use in Class A/B foam systems and is excellent for use in CAFS.
The first three recipients of this award are the Deansboro (NY) Fire Department, Ottawa Lake (MI) Fire Department, and Seward (AK) Volunteer Fire Department.
Deansboro Fire Department
The Deansboro Fire Department (DFD) is a small, all-volunteer department located in rural upstate New York. DFD's 40 volunteers protect approximately 60 square miles and 2,500 people, responding to around 130 calls annually. Furthermore, they provide mutual aid to three neighboring departments. Despite this, they face a manpower shortage, especially during the day when many of their volunteers are working their day jobs. Due to budgetary constraints, it would be difficult for DFD to purchase a CAFS backpack without outside help.
"I believe this backpack will only enhance our capabilities and strengthen our usefulness within our community," said first assistant chief David Parda. "We don't have fancy trucks or a new firehouse, but what we do have is a department that is capable of handling whatever comes our way. This product would only add to the level of great service we provide."
Ottawa Lake Fire Department
Located in rural southeast Michigan, Ottawa Lake Fire Department's 26 volunteers protect approximately 20 square miles and 2,300 people, answering an average of 200 calls annually. The department responds to a variety of fires at the different commercial and industrial areas in their district, including many that require the use of foam such as agricultural grain, liquid petroleum natural gas, and fertilizer fires.
"[We] have two grain elevators within our district with grain piles that are over 15 feet tall, and with the CAFS backpack, a firefighter can get to the top of a grain pile to knock fire down faster and safer instead of pulling a hose all the way to the top of the pile," said department clerk and station radio operator Dennis Reitzel. "With CAFS backpacks, firefighters will be ready to fight a fire upon immediate arrival on scene while other firefighters are getting hoses pulled and charged with water and foam."
Seward Volunteer Fire Department
The Seward Volunteer Fire Department is a small, mostly volunteer department located along the Alaskan coast. The department protects approximately 24 square miles and a population of 2,300, responding to an average of 300 calls annually, including many in hard-to-reach areas during famously tough Alaskan winters.
Despite having 25 registered members, only 10-12 firefighters can respond to calls at any given time. Due to the budgetary impact of COVID-19 and limited resources, purchasing a CAFS backpack on their own would be difficult. "A versatile one-person operation tool such as the Macaw® CAF backpack could save time and manpower while providing safety with reduced volunteers," said executive assistant Janice Melvin.
The remaining six recipients of the Intelagard Macaw® CAFS Backpack Giveaway will be announced in July and August. Stay tuned to the NVFC's web site, Facebook, Twitter, LinkedIn, and Instagram pages, as well as the Dispatch newsletter for more information.
About Intelagard
Intelagard provides a full range of innovative compressed air foam systems ranging in size from man-portable to truck and trailer-mounted units. The Intelagard CAFS enhance the fire extinguishing properties of water and stretches firefighting power. When used with firefighting foam, these patented CAFS create a superior bubble structure that blocks oxygen to the fuel, suppresses vapors, and provides a cooling effect to the fire. After a 9-year process the U.S. Military chose the Macaw® Backpack as the "new standard of portable fire suppression equipment." Intelagard systems are also used for hazardous material clean up, crowd control, and chemical and biological decontamination. Learn more at https://intelagard.com/.
About National Foam
National Foam is the recognized leader of firefighting foam systems which end-users have come to rely on. Capabilities include R&D, custom system design, field technical support, foam concentrates, and foam hardware for fixed and mobile response systems. National Foam supports customers over a wide range of sectors including major oil and petrochemical companies, international airports, military bases, power stations, harbors and ports, and local municipal fire and rescue services. Learn more at www.nationalfoam.com
About the NVFC
The National Volunteer Fire Council (NVFC) is the leading nonprofit membership association representing the interests of the volunteer fire, EMS, and rescue services. The NVFC serves as the voice of the volunteer in the national arena and provides critical resources, programs, education, and advocacy for first responders across the nation. Learn more at www.nvfc.org.