DripDrop Partners with NVFC to Donate 547,000 Servings of Dehydration Relief Mix to Volunteer Firefighters
July 25, 2023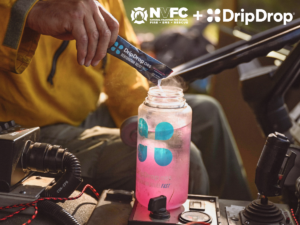 The National Volunteer Fire Council (NVFC) partnered with DripDrop Hydration, PBC, a leading electrolyte rehydration company, for the fourth year to provide dehydration relief to volunteer firefighters. More than 2,700 cases (547,000 servings) of DripDrop's electrolyte drink mix have been donated to 1,544 volunteer fire departments to help keep their firefighters at their best while serving their community.
Dehydration is a serious concern for firefighters and can cause decreased performance as well as health complications including dizziness, heat stroke, and even heart attack. DripDrop is a fast, clinically-proven way to replenish lost fluids and electrolytes quickly, which can be critical for firefighters as they battle wildfires and exert themselves in scorching summer heat.
"Volunteer firefighters put everything on the line to keep their communities safe," said NVFC chair Steve Hirsch. "It's our duty to keep them safe as well. We're thankful to have a partner like DripDrop who shares our goal of protecting our community heroes and keeping them safe from dehydration and heat-related injuries."
"DripDrop is proud to support the National Volunteer Fire Council and its members through our ongoing partnership and annual donation campaign, now entering our fourth year," said Rick Hughes, VP of professional sales at DripDrop. "Our core mission remains to defeat life-threatening dehydration at home and abroad, and we are pleased to be able to fuel these heroes with superior rehydration."
While the 2023 product donation period has ended, firefighters can continue to receive a 20% discount on all DripDrop orders by using code NVFC20 at checkout on dripdrop.com. Fire departments interested in ordering in bulk can contact Greg.Sumerlin@dripdrop.com.
NOTE: The NVFC and DripDrop do not make any medical claims. Check with your physician if you are experiencing a medical issue.
About DripDrop Hydration, PBC
DripDrop is a leading electrolyte powder developed on a humanitarian aid mission by Dr Eduardo Dolhun to rehydrate fast in the most challenging circumstances. They offer fast-acting, delicious-tasting breakthrough rehydration trusted by doctors, firefighters, professional athletes, and the U.S. Military. A patented formula that improves upon the global oral rehydration solution (ORS) standards with its fast, uncompromised efficacy and unmatchable flavors. The product is the perfect on-the-go solution for everyday causes of dehydration – heat, exercise, sleep, travel, celebration. For more information, or to find a store that carries DripDrop, visit www.dripdrop.com.
About the NVFC
The National Volunteer Fire Council (NVFC) is the leading nonprofit membership association representing the interests of the volunteer fire, EMS, and rescue services. The NVFC serves as the voice of the volunteer in the national arena and provides critical resources, programs, education, and advocacy for first responders across the nation. Learn more at www.nvfc.org/join.